UniSA young achiever up for the challenge
April 05 2016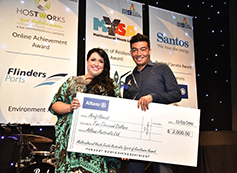 Around Australia, thousands of kids get involved in tennis lessons every week, but very few have recently moved to a completely different country where a different language is spoken and school is a major challenge.
His own experience as an Afghan refugee inspired UniSA graduate Aref Ahmadi to get involved with Adelaide's refugee and migrant communities including supporting new arrivals through the Multicultural Tennis program at the Grange Tennis Club.
Recognised as this year's winner of the Channel 9 Young Achiever Multicultural Youth South Australia (MYSA) Spirit of Resilience Award, Aref has helped many young refugees meaningfully engage with their community and build social connections through sport.
"Despite the relief that came with my family moving to Australia, the first few years were really tough as I tried to adjust to the new culture, customs and learning the language," Aref says.
"Multicultural Youth SA helped me with the resources and opportunities I needed to fully participate in social, cultural, economic and political life so I have taken as many opportunities as I can to help others in the same way.
"I used to just watch other people play tennis at Grange until one day, despite not having any shoes or a racquet, I was asked if I would like to have a hit.
"I just wanted to learn how to play tennis but I have received so many more opportunities including attending their Junior Development Course and now I run the program."
The MYSA Spirit of Resilience Award recognises young people, like Aref, from migrant or refugee backgrounds who have overcome significant adversity and have used the experience to encourage and enrich the lives of others in the community.
Despite having graduated in 2013 and now working as a full-time accountant, Aref still spends many hours a week mentoring 'at risk' young people, on and off the tennis court.
"As Treasurer and a coach at the Grange Lawn Tennis Club I needed to raise money and physical support to host our annual multicultural tennis tournament," Aref says.
"By encouraging refugee kids to get involved with tennis we are breaking down barriers to settlement like racism and social isolation.
"I know how hard it is for kids because I was only 14 when we came to Australia and I wanted to go out and have fun, but my family depended on me to help them and I didn't have many friends.
"If I have helped even just a few young people have an easier time settling into life in Australia then it will have been well worth my time and effort."
Some of the work Aref Ahmadi was recognised for includes:
Committee Member/ Move-it Program Coach at Grange Lawn Tennis Club
January 2006 - Present (10 years)
Coaching tennis with young kids from diverse backgrounds
Liaising with funding the Office of Recreation & Sport, Tennis SA and other committee members
Promoting the Move-it (Advantage Refugee Program) to local schools and communities
Committee Member at Adelaide High School- Old Scholars Association
July 2013 - Present (2 years 6 months)
President and Co-founder at UniSA Afghan Student Network Group
January 2012 - Present (4 years)
Promoting and fostering networking within Afghan students undertaking study at the University of South Australia
Media contact: Katrina McLachlan office +61 883020961 mob 0414972537 email katrina.mclachlan@unisa.edu.au