UniSA wins support to tackle rural mental health problems online
July 14 2016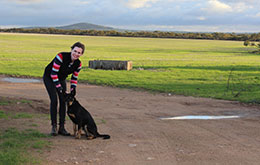 Australian farmers will soon have an opportunity to improve their mental health and well-being through an online resource being developed at the University of South Australia with support from The National Australia Bank Foundation (NAB) and the Freemasons Foundation Centre for Men's Health.
The 2014 Regional Wellbeing Survey found that 49 per cent of farmers have a mild or worse mental disorder, compared with 26 per cent of the general rural population.
These findings together with farmers' unacceptably high suicide rate demonstrate the timeliness of the project.
The new resource is a website designed to provide an easy, accessible and confidential way for farmers to learn new ways to manage stress and to successfully cope with issues that are beyond their control and improve their mental well-being.
The National Australia Bank (NAB) Foundation has committed $100,000 to the UniSA project, which was one of the 10, selected from a pool of 450 applicants to NAB's Stronger Minds grant scheme.
Lead researcher and clinical psychologist Dr Kate Fennell says the program will be co-created, so that it meets the needs and preferences of those working in the agricultural sector.
"We'll be bringing together what farmers tell us they want and need with evidence-based Acceptance and Commitment Therapy (ACT) which is a psychological therapy that helps people learn ways to better manage things that are out of their control and take action that enriches their lives," Dr Fennell says.
"This will be the first time an intervention based on ACT has been developed specifically with and for farmers.
"Previous research conducted by our team has shown that when two farmers are exposed to the same levels of stress, the farmer who copes most effectively is the one who manages to adopt 'acceptance' as a coping strategy.
"This makes sense given that so much of what causes farmers stress is beyond their control, and that is why we think helping farmers to learn acceptance using ACT, is such an exciting initiative.
"This online resource will be different to what is already available in the mental health space; it will be relevant to people both with and without mental health issues and it will be tailored to the specific challenges, needs, experiences and even sense of humour that people working in agriculture seem to share."
Dr Fennell says there are many reasons that farmers are different to those who work in other industries.
"For example, their place of work is commonly their home; there is often a generational connection to the profession; their success is largely dependent on the weather and commodity prices which they obviously can't control and they sometimes feel misunderstood by 'outsiders'," she says.
"We want to create something that taps into their way of thinking and acknowledges the fact that farmers are already very good problem solvers, but may benefit from advice on how to deal with things they can't fix – such as the weather."
It's a topic close to Dr Fennell's heart, having grown up on a property, "Mount Cooper", near Streaky Bay, where her parents and brother still live.
"My interest in this topic has grown from witnessing first-hand, the challenges family and friends in my rural community have experienced over the years," she says.
"We really want this online resource to be something that is useful not only to those already dealing with mental health issues, but is also helpful in preventing the development of mental health issues and encouraging farmers to seek face-to-face professional help early, if that is what they need."
Dr Fennell and her team hope to engage 80 farmers from all over Australia to assist them in developing and evaluating the website.
"To be eligible to assist us with this work, a participant or their partner must currently own or play an active role in the operation of a farming or pastoral enterprise in Australia, be over 18 years of age, be fluent in English and have access to the internet," she says.
To register your interest in participating in this or related rural-focused research, visit: http://survey.unisa.edu.au/index.php/176398/lang-en
Media contact: Michèle Nardelli mobile: +61 418 823 673 email: michele.nardelli@unisa.edu.au