UniSA student takes out Hawker Scholarship at award ceremony in Canberra
May 05 2016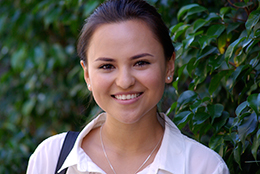 University of South Australia student Shamsiya Mohammadi has taken out one of Australia's most prestigious scholarships, winning a 2016 CAS Hawker Scholarship, which has been awarded to her in Canberra today, by Former Governor-General Major General, The Hon Michael Jeffery.
Originally from Afghanistan, Shamsiya is in her second year of a Journalism and Arts (International Relations) Degree at Magill Campus, having completed her secondary education at Roma Mitchell Secondary College in Adelaide, where she achieved Dux of Campus and an ATAR of 99.75.
Shamsiya says she is humbled by the acknowledgement the scholarship places on her from such a well-respected organisation as Hawker.
"I'm honoured to be a recipient of this scholarship and excited for the opportunities it offers me to further my education, as well as my personal and professional life in Australia," says Shamsiya.
"This scholarship is an inspiration for me to continue advocating for the things I believe and, like the legendary Charles Hawker, work towards the greater good in everything I do.
"My family fled Afghanistan when I was two and we found refuge in Pakistan before my father risked his life journeying by boat to Australia in 2000. As a family we were reunited with my father in 2006 in Renmark. I was nine when I arrived in the Riverland and spoke no English.
"For everything my family and I have achieved here, I'm incredibly thankful for my parents' bravery and the life it's afforded us in our adopted home.
"Like my family, refugees arrive in Australia to contribute to our nation and if given the opportunity will work tirelessly to help progress it.
"My ambition is to complete my studies and move toward a career as a Foreign Correspondent in Afghanistan. I want to be a voice for the voiceless.
"I have a desire to one day return to Afghanistan and report on the lives of the young girls and women, which I hope will contribute to positive change for people in and outside of Afghanistan."
Shamsiya has also held positions as an executive member of The Association of Australian Tertiary Students from Afghanistan (AATSA) and Welcome to Australia. Both organisations seek to build a bridge between the Australian community and refugees arriving in Australia.
In 2015, Shamsiya was the Youth Ambassador at the Australian Refugee Association (ARA) helping other refugees to settle in Australia and is also a member of UniSA's Powerhouse Radio Show to further her ambition of becoming a journalist.
Pro Vice Chancellor for Student Engagement and Equity, Dr Laura-Anne Bull paid tribute to Shamsiya's academic prowess, as well her social conscience and advocacy for the rights of woman and refugees.
"This is a young woman who is a real role model, both academically and personally. I'm confident she'll achieve whatever it is she sets her mind to," Dr Bull says.
"With Shamsiya's track record of achievement and the obvious strength of character that exists within her family to start a new life in South Australia, she's a real asset to this country," she added.
The Charles Hawker Scholarship Trust was established by Lilias Needham, in memory of her brother. The C.A.S. Hawker Scholarship, valued at up to $50,000 over three years, is one of the most generous privately funded residential scholarships available to Australian undergraduate and postgraduate students.
For 2016, three of the five new C.A.S. Hawker Scholars are from South Australia, the two others being enrolled at the ANU. The five successful candidates for 2016 were awarded Hawker Scholarships from a strong field of 187 applicants.
Since 1990, the Trustees have awarded more than five million dollars to 114 young Australian students, including a significant number from regional areas.
Media contact: Will Venn mobile: +61 (0) 401 366 054 email: will.venn@unisa.edu.au