UniSA and Qianhong-LeSun Pharma Group's new Sino-Australian joint laboratory to fast track new cancer drugs
December 09 2016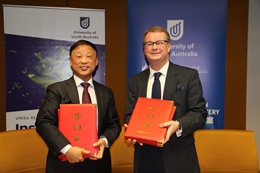 The University of South Australia and China's Qianhong-LeSun Pharma group have joined forces to establish a multi-million dollar Sino-Australian Joint Laboratory in Innovative Drug Discovery to fast track the development of new treatments for cancer.
Under the agreement to be signed in Adelaide on December 12, Changzhou Qianhong Biopharma Co Ltd and its subsidiary, LeSun Pharamaceutical Ltd, will provide funding and additional in-kind support towards drug discovery programs.
Led by UniSA's Shudong Wang, an internationally renowned Professor of Medicinal Chemistry and a pioneer in kinase targeted drug discovery, the UniSA team will identify pre-clinical drug candidates.
The partnership will spearhead the commercialisation of drug candidates for global markets.
President of Qianhong-LeSun Pharma Group, Yaofang Wang says he is delighted with the agreement for this important collaboration.
"Our partnership with world-class institutes that have innovative drug discovery programs is a long-term win-win , which will enhance our international vision and our development and commercial capabilities," Wang says.
"We are thrilled with the opportunity to work with the University of South Australia's highly regarded scientists to develop important new therapies for cancer patients."
University of South Australia Vice Chancellor Professor David Lloyd says this is another example of the University's strong focus on enterprising partnerships that have high potential to deliver real benefits to society.
"We are really energised by the commitment we have received from our Chinese partners at Qianhong-LeSun Pharma Group because it reflects the excellence of the work we are doing," Prof Lloyd says.
"This is the very best of partnership because of our shared goal to accelerate innovative drug research that will have a significant impact on how we fight the disease and improve the outcomes of millions of sufferers.
"I am delighted with this important new R&D investment and partnership.
"Under the excellent leadership of Prof Wang we also hope to encourage more talented researchers to join the laboratory and bring their skills to the challenge of developing more effective treatments for cancer."
Media contact: Michèle.Nardelli@unisa.edu.au mobile: + 61 418 823 673 office: +61 8 8302 0966
About University of South Australia:
The University of South Australia is Australia's University of Enterprise – globally focused, locally engaged, and committed to the principles of excellence and equity.
With more than 34,000 students, it is South Australia's largest university and is ranked in the top 50 world universities under 50 years old by both Times Higher Education (#35) and QS (#25) world university rankings.
UniSA's enterprising approach is underpinned by deep engagement with industry and the professions with more than 2000 collaborations and partnerships across industry, government and business worldwide.
www.unisa.edu.au I Follow us on Twitter @UniversitySA I Watch our YouTube channel YouTube.com/UniSouthAustralia
About Changzhou Qianhong Biopharma Co. Ltd.
Changzhou Qianhong Biopharma Co. Ltd (QIANHONG) is one of Chinese leading biochemical pharmaceutical enterprises in polysaccharide and protein-based drugs, and has multiple products with GMP certification from USA, EU, Australia and other countries. The company is listed in Shenzhen Stock Exchange, and has a net profit of RMB 267 million in 2015. In addition to its strong manufacture and drug distribution capabilities, QIANHONG has two subsidiary companies for innovative drug research and development - while Jiangsu ZonHon Biopharma Istitute Inc. focuses on bio-pharmaceutical drugs LeSun Biopharmaceuticals Co. Ltd.(LeSun) develops small molecule targeted therapeutics.
QIANHONG Contact:
Address: 90 Middle Changjiang Road, Xinbei District, Changzhou, Jiangsu, China, 213022
Name: Dr. Ke Wang
Phone: +86-519-86020680
Email: wangke@qhsh.com.cn
About Changzhou Le Sun Pharmaceuticals Co., Ltd.
Changzhou Le Sun Pharmaceuticals Co., Ltd. (LESUN) is a biopharmaceutical company developing oral therapies for the treatment of cancer and other serious diseases. LESUN is advancing a pipeline of small molecule drugs designed to block the production or action of proteins or genes that are critical for cancer cell proliferation and survival. In addition to the strategic development of innovative pharmaceuticals, LESUN has strong capabilities in formulation, bioanalysis and API production.
LESUN Contact:
Address: 106 Hehai Road, New District Changzhou, Jiangsu, P. R. China, 213022
Name: Dr Hui Wang
Phone: +86-519-85196673; +86-18151726125
Email: lesunpharm@163.com