Solving real world problems: UniSA research gets $3.7 million ARC boost
May 06 2016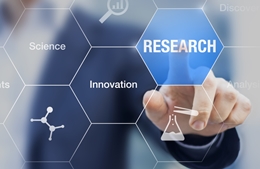 Innovative research projects tackling real world problems across industries including manufacturing construction, health and water management have been championed in the latest round of Australian Research Council (ARC) funding, with the University of South Australia receiving at least $3.7m in funding.
Researchers from the divisions of Information Technology Engineering and the Environment (ITEE), Health Sciences (HS), and the recently established Future Industries Institute (FII) will receive grants for their projects, totalling $1,707,105.
A further $2m is also being awarded to UniSA researchers who have been selected to establish a research hub, in partnership with the University of Technology Sydney (UTS).
Professor Emily Hilder; Professor David Lancaster; Dr Beatriz Prieto-Simon; and Dr Craig Priest will participate in the ARC Research Hub for Integrated Device for End-user Analysis, which is one of five Industrial Transformation Research Hubs which the Minister for Education, Simon Birmingham, describes as: "next generation research incubators".
Under the Industrial Transformation Research Hubs Scheme UniSA Associate Professor Jun Ma will also be a participant on the ARC Research Hub for Graphene Enabled Industry Transformation.
UniSA Vice Chancellor, Professor David Lloyd, says ARC funding allocation will drive forward innovative projects by UniSA research teams, whose collaboration with industry and business would create society-wide benefits.
"In such a competitive research environment, it's encouraging to note that funding is being awarded to researchers whose proposals typify and showcase what we, as an enterprising young University, do best: that is creating knowledge that adds value, enhances industrial practice, builds on industry partnerships, and ultimately stands to benefit the global community," Prof Lloyd says.
Deputy Vice Chancellor, Research and Innovation, Professor Tanya Monro, describes the ARC linkage projects as a showcase of innovation.
"Research that demonstrates clear pathways and intent, responding to and meeting the needs of industry, is that which has the most impact in our society and makes the most difference," Prof Monro says.
"The awarding of ARC funding to these researchers is a reflection of their innovative talents and underlines once more just how vital collaboration is between industry and research to achieve impact."
Of those who have been awarded funding Professor Julie Mills (ITEE) and her team will be granted $350,000 for a project which is aimed at using crumb rubber from used tyres to replace natural sand aggregate in concrete used in housing construction. This project intends to provide the tyre industry with a viable market for end of life tyres, and the premix concrete industry with a "green" product for the residential construction market.
Associate Professor David Beattie's (FII) team will be utilising their ARC Linkage grant of $220,105 for a project aimed at controlling fat crystal wettability, to create tailored dairy products with desirable stability, shelf-life and texture. Expected outcomes are new dairy products with optimum stability and texture.
Associate Professor Jun Ma (ITEE) and his team will be awarded $229,000 for his project aimed at developing technology that has the potential to prevent the breakage of conveyor belts that are essential to the mining, processing and transportation of loose bulk materials, improving the design and manufacturing of flexible sensors. The project, which will involve an Australian manufacturing partner, aims to develop composites specifically suited for the fabrication of rolling-resistance sensors that detect early-stage malfunctioning idler rolls.
Associate Professor John Hayball's (HSC) team will be awarded $362,000 for a project which aims to develop a multicomponent vaccine system to deliver equal effectiveness against several disease targets in a single administration. New and innovative vaccine design strategies incorporating economical commercial production processes are urgently needed for new and existing human and animal health applications. A vaccine capable of targeting multiple diseases by a single injection is an obvious way to expedite future vaccine development and deployment.
Dr Justin Payne (ITEE)'s team will receive $225,000 funding for a project which aims to improve exploration models for the spectrum of deposits at Olympic Dam. The project aims to constrain the source of metal and fluids in the Gawler Craton deposits, determine crustal fertility for deposit formation and develop metal specific 'prospectivity maps' to improve exploration efficiency.
The Future Industries Institute's Dr Beatriz Prieto-Simon's interdisciplinary project, which aims to develop arrays of electrochemical biosensors based on nanostructured silicon for real-time monitoring of water filtration membrane integrity, is expected to create outcomes including improvement of water treatment processes, removal of viruses and reduction of the risks and uncertainties of water recycling. Dr Prieto-Simon's team has been awarded $321,000 for this project.
Media contact: Will Venn mobile: +61 401 366 054 email: will.venn@unisa.edu.au