SOCE students weave web magic for 22 community organisations
July 20 2016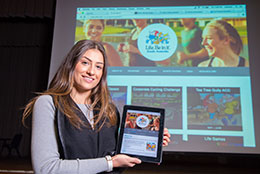 Twenty-two South Australian community organisations that couldn't afford a web designer and coder have just flicked the switch on their latest pride and joy – their very own exceptionally designed and built website.
Thanks to a partnership between a group of talented UniSA Advanced Web Design students and a selection of community groups from all over South Australia the organisations can now digitally connect with their members all day every day and the students have industry experience and are job ready.
As part of the Sustainable Online Community Engagement (SOCE) Project – a joint initiative between UniSA's School of Communication, International Studies and Languages, and the State Government's Office for Volunteers – 28 web design students were matched with organisations that had neither the skills nor the resources to produce the digital tools necessary to support their communities.
The successful program has been running since 2001 with more than 400 South Australian community groups and 650 UniSA students benefiting from being exposed to a real-life client/developer project relationship.
Advanced Web Design Course Coordinator, Tom Longo, has been integrating the Sustainable Online Community Engagement Project into his course for the last five years because he says many of the skills needed to build websites aren't actually technical skills.
"A great deal of modern web development is about strategy and budgeting and managing client expectations, none of which are typically covered in a university course," Tom says.
"By integrating the SOCE project our students are able to not only build high quality websites, but also work closely with real people, real problems and real deadlines.
"This means our students are learning project management skills at the same time they learn the technical skills needed to launch amazing websites for local community organisations to be able to have an online presence."
Many of the organisations that connect with UniSA through SOCE are small, rural and have limited budgets so they don't have the time or money to market themselves.
"SOCE is a real win-win because it gives the organisations the chance to produce websites, videos and other promotional materials that build their brand and enable them to reach their intended audiences," Tom says.
"The students enjoy working with real clients, rather than hypothetical organisations and juggling client expectations with project requirements, forces them to think about solving problems that will inevitably come up in Web development builds such as these in the future.
"Sometimes clients don't provide enough content, or too much content, or they ask for things that aren't possible within the timeframe. It's these interactions, and how you deal with them, that can't be taught using pretend projects.
"Being in industry myself, I know what they learn in this course is directly applicable to what they will face after graduation and it has been heartening to see many students go on to work at creative agencies after completing this course."
Life Be In it is one of the South Australian community groups that took part in the most recent SOCE project round partnering with third year student Paige Mewett who says the course has given her a massive confidence boost.
"Working with tools used in the industry is a huge benefit because it gives you confidence to go out into the workforce and be familiar with the processes they use," Paige says.
"At the beginning of my degree I started with barely any knowledge about developing so now being capable of creating and developing a fully functional website for a real client makes me realise how far I've come in terms of skills and capabilities.
"I was constantly learning new things throughout the whole project and I think I was most surprised by the amount there is to learn and that there are so many ways of doing things that you just stumble across during the process.
"Life Be In It is an iconic South Australian organisation who were great to work with but we both had very busy schedules so sometimes it was challenging communicating on short deadlines but I am really happy with the final product.
"I feel proud to have worked alongside and helped a South Australian brand that promotes health and fitness - something I am also passionate about – and I am proud of the website now it is live."
You can check out all the websites on UniSA's Community Webs page and if you know of a community group that would like to register for the next project round more information is available.
Media contact: Katrina McLachlan office +61 883020961 mob 0414972537 email katrina.mclachlan@unisa.edu.au