It happens to 7% of us at night and only while we are asleep…
November 21 2016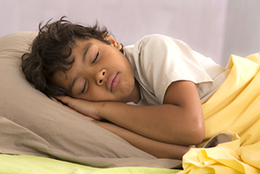 New research from the University of South Australia (UniSA) has identified just how prevalent sleep walking is, with 6.9 percent of people expected to sleepwalk at some point in their lives.
Children also outnumber adult sleepwalkers, with 5 percent of children likely to have sleepwalked within the last 12 months, compared to just 1.5 percent of adults.
UniSA's Centre for Sleep Research has published its latest findings: "Prevalence of Sleepwalking: A Systematic Review and Meta-Analysis" based on 51 studies which assessed the prevalence rates of sleepwalking across 100,490 people.
UniSA's Dr Helen Stallman, expert on the science of somnambulism, says this research is adding knowledge about a condition which is often misunderstood and often unrecorded - not least because of the unconscious state people find themselves in when the act of sleepwalking occurs.
"The prevalence of sleepwalking has been reported previously as anywhere from 0-40%. What our research is doing is providing a more accurate assessment as to how many people sleepwalk," Dr Stallman says.
"This is the first study to do a meta-analysis, combining the results across all studies to estimate the true prevalence of this condition.
"Somnambulism occurs in the deepest phase of our sleep, when it's harder for us to be roused, and it can relate to simple acts , such as sitting up in bed, to more complex behaviours, including being able to drive a car."
With media reports on sleep walking usually focusing on the injuries sustained by, or unusual places sleepwalkers find themselves in, Dr Stallman says this research highlights the need for examination into treatments for sleepwalking.
"Sleepwalking can result in injuries to the sleepwalker and sometimes even results in death," Dr Stallman says.
"Given the significant number of people who have been affected by this condition, our research focus now is on examing what effective interventions there may be to potentially treat those who sleepwalk, thereby preventing themselves from harm".
For further information about this research, please contact Dr Helen Stallman:
Email: Helen.Stallman@unisa.edu.au office: +61 88302 4360
Media contact: Will Venn office +61 883020096 mob 0401 366054 email will.venn@unisa.edu.au