Leaders Institute SA and UniSA forge new alliance to expand leadership development
August 17 2016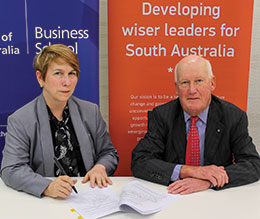 The Leaders Institute of South Australia (LI) and the University of South Australia (UniSA) today announced a new affiliation that will see the expansion of leadership development and executive education in the State.
The Leaders Institute, which runs the prestigious Governor's Leadership Foundation - as well as Integral Leader, Northern Leaders Edge and Edge programs - will relocate its offices to UniSA's City West campus and join forces with UniSA's Business School in September 2016.
LI will also welcome its new CEO, Marianne Stacy, who commences her role with the Leaders Institute in September.
Announcing the affiliation, Chair of the LI Board, Colin Dunsford AM says the new relationship will allow the Institute to grow and leverage shared relationships with many companies and organisations across South Australia.
"LI and UniSA share many common relationships across government and the business sector in SA and this new affiliation means we can work together to ensure the development of opportunities for established and emerging leaders throughout the state," Mr Dunsford says.
"The new affiliation ensures leaders are supported in their development through academic degrees and short courses, as well as through adaptive leadership, action learning and the unique format of our current suite of programs.
"We have had a long association with UniSA, following its contribution to the creation of the Governor's Leadership Foundation Program (GLF) in 2000, and we look forward to exploring new opportunities with its Business School in our mission to develop wiser leaders for this state.
"While the existing GLF program will not change, we do look forward to exploring other collaborations and this is already evident in the number of our graduates who go onto do an MBA and receive credit for their GLF experience."
University Vice Chancellor Professor David Lloyd says the affiliation has come about at an important time for the State as it seeks to transform its economy.
"The Leaders Institute was originally established at a time when the State was striving to build new capabilities in its established and emerging leaders," Prof Lloyd says.
"It is no coincidence that this new affiliation is being forged at precisely a time in our history when we are again seeking a further step change in innovation and leadership creativity."
Professor Marie Wilson, the PVC UniSA Business School says the new affiliation is a significant step in the Business School's mission to support the development of leaders in all sectors of the economy in growing their own careers as well as in growing the SA companies and organisations to create a vibrant future for the region.
"We need business in this State with the leadership capacity and courage to 'start-up' and then 'grow-up' if we are to be the innovative and more flexible economy we aspire to be," Prof Wilson says.
"Our affiliation will provide established and emerging CEOs and business leaders with a wider professional development choice and I know we are going to be able to build and evolve our current programs with the shared experience and knowledge we each bring to the table."
Background
The Leaders Institute was established in 2004 and currently has over 550 alumni from its prestigious Governors Leadership Program. The GLF, which has the Governor as patron, is a unique year-long experiential action learning and issues-based program that brings together leaders from business, government and the community and develops their adaptive leadership capabilities while examining issues critical to our society and economy.
The Leaders Institute is a not for profit association which will retain its own Board and governance arrangements under the new partnership with UniSA.
UniSA Business School is ranked among the top 1% of business schools worldwide and is the only Business School in SA to have EQUIS accreditation – a European Foundation Management Development standard. The Business School has a five star rated MBA and most recently launched a new Centre for Business Growth, which also runs highly successful, and internationally recognized executive education programs for leaders who want to grow their companies.
Media contacts
Michèle Nardelli office (08) 8302 0966 mobile 0418823673 email michele.nardelli@unisa.edu.au