Honorary Doctorate for Australian arts superstar, Barry Humphries
May 12 2016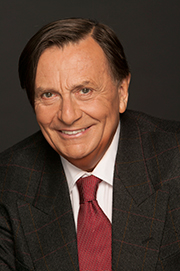 The University of South Australia will award Australia's National Living Treasure and international comedy icon, Barry Humphries AO, CBE, an Honorary Doctorate at an invitation only event, In Conversation with Barry Humphries, in the Allan Scott Auditorium at 4pm on May 13.
UniSA Vice Chancellor Professor David Lloyd says Humphries has been one of Australia's greatest global arts ambassadors over his long, diverse and brilliant career.
"There are not many artists or performers who manage to continue to contribute to the arts in such broad scope and at such a level of excellence for so many decades – Barry Humphries is that rare talent," Prof Lloyd says.
"Through his wonderful satirical characters – the globetrotting housewife, Dame Edna Everage and the infamous cultural attaché, Sir Les Patterson, among others – he introduced the world to Australian life, its warmth, its unique personality and its evolution over the decades.
"While continuing to bring life to these iconic characters, Barry has worked as an actor in theatre, film and television. He has had roles in 26 films across his career, has written numerous books, novels and plays and is a fine landscape painter.
"We are not alone in acknowledging the sheer breadth and vitality of his contribution to the arts.
"Barry was presented with the Order of Australia in 1982, the Outer Critics Circle Award for theatrical achievements in 2000 and in the same year the inaugural Special Tony Award for a Live Theatrical Event for Dame Edna: The Royal Tour.
"In 2007 he was awarded a Commander of the Order of the British Empire (CBE) for his services to entertainment, and in 2012 he was presented with the Australian of the Year Award at Australia House, London (2012)."
Born and raised in Melbourne Barry Humphries was educated at the University of Melbourne where he studied law, philosophy and fine arts. While still at University, he made one of his first theatrical journeys to Adelaide in 1953 to compete in a university drama festival.
Like many of his contemporaries, Humphries headed to London in the 1960s where his career began in earnest and he won roles in many West End musicals including Oliver and Maggie May.
His career really took off when he introduced Edna Everage, a character first conceived in his early theatre days in Melbourne, to a British audience in 1969.
Since then, Dame Edna has featured in countless stage offerings and Humphries has made theatrical tours of Germany, Scandinavia, the Netherlands, the US, East Asia and the Middle East.
Outside the limelight, Humphries has always been a lover of books and art and is an awarded author in his own right with his autobiography, More Please, taking out the J.R. Ackerly Biography Prize in 1993.
"I am deeply honoured to accept an Honorary Doctorate from the University of South Australia," Mr Humphries says.
"Not a word to my friends in Victoria, but South Australia is my favourite Australian State and I have visited more often than most realise, ever since I was a university student in 1953 and have always had a wonderful time.
"I have received a number of accolades in my life – a punishment for living a long time – but this one from South Australia is important to me.
"I might even call myself a doctor should some young person require my services.
"Thank you and it's the best excuse I know for visiting Adelaide again."
Prof Lloyd says Barry Humphries continues to make an "outstanding contribution" to Australian society.
"Despite having built a body of work to be enormously proud of, Barry Humphries never stops looking for new challenges, such as his recent role as Artistic Director of the 2015 Adelaide Cabaret Festival," Prof Lloyd says.
"HIs talent, creativity, invention and intellect have delivered incisive critiques of Australian culture, but at the same time helped to shape that culture for future generations.
"We are enormously proud to welcome him to the University of South Australia community as an Honorary Doctor."
In Conversation with Barry Humphries:
An evening with John Barry Humphries AO CBE will be held on Friday May 13 from 4pm in the Allan Scott Auditorium, UniSA City West Campus.
Invited guests will have the opportunity to listen to and engage with one of Australia's legendary artists:
4.00pm: Start
4.05pm: In conversation with Barry Humphries
4.35pm: Questions from the floor
4.55pm: Honorary Doctorate presentation begins
5.25pm: Cocktail function.
This event will be filmed by the University of South Australia however no other cameras – still or video - will be allowed in Allan Scott Auditorium during the event and Barry Humphries will not be available for individual media interviews.
Media contact: Michèle Nardelli mobile: +61 418 823 673 email: michele.nardelli@unisa.edu.auv