Global experiences help shape an emerging leader
July 17 2012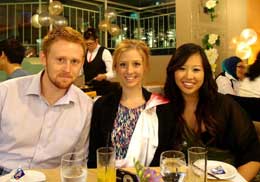 One of Adelaide's emerging leaders, Jake Richardson, was inspired to become an active citizen after a life-changing trip to Malaysia.
The University of South Australia student, who travelled to Malaysia in February as part of his Bachelor of Commerce degree, was recently in the winning team for the best presentation award at the Capital City Committee Emerging Leaders Forum.
A partnership between the State Government and Adelaide City Council, the Capital City Committee's role is to drive the strategic development of South Australia's capital city. Chaired by the Premier, the Committee hosted the Emerging Leaders Forum to foster the ideas of the State's future leaders in June this year.
Richardson says he would not have been selected for the forum if it wasn't for his experience in Malaysia, where his travels motivated him to become a more engaged and active citizen on his return home.
"There is no way I would have been chosen for the forum if I hadn't gone on the study tour to Malaysia – the experience changed my life. It was a chance to see the world from a different perspective and learn from cross cultural interaction and international networking," Richardson says.
"Before the trip, I saw university as a chore – just something I had to do to become an accountant. Now I've realised university is about more than just a piece of paper.
"Malaysia has changed my outlook on life, both personally and professionally. Not only is it something I can put on my resume but I've found there are so many opportunities available if you are open to them, such as the Emerging Leaders Forum.
"I've learnt it is important to try new experiences even if they don't appeal to you at first. This is often when you will learn the most."
Richardson has since been involved in several leadership initiatives including a weekend workshop at Camp Coorong where his ideas of Ngarrindjeri culture were transformed through experiential activities and extended dialogue with Aboriginal Elders, and becoming an official Ambassador for UniSA's Global Experience program.
Global Experience, a university-wide extra-curricular program designed to engage students in a range of intercultural experiences to enhance their global competencies, is open to all UniSA students and has sent approximately 60 students abroad since its establishment in 2008.
As well as student exchanges, the program offers heavily subsided study tours such as an upcoming 12 day journey through Vietnam in September this year. Students will have the opportunity to participate in industry visits, cultural activities and social interaction with local students and learn valuable cross-communication skills.
The Vietnam tour is similar to the study tour Richardson attended in Malaysia earlier this year. The ambitious student, who also works full time at accounting firm Tilbrook Rasheed, is currently making plans for further study in Singapore but for now, his global experience is continuing to broaden his horizons, right here in Adelaide.
Places for the upcoming tour to Vietnam are still available and UniSA's Global Experience and the Division of Business are offering scholarships of $1500 for eligible students to undertake the study tour.
Media Contact
Rosanna Galvin office (08) 8302 0578 email rosanna.galvin@unisa.edu.au