Forum explores constitutional reform to recognise our First people
May 15 2012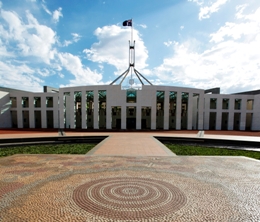 As support grows to constitutionally recognise Indigenous people as the first Australians, UniSA's Bob Hawke Prime Ministerial Centre and Anglicare SA will jointly present a forum to explore constitutional reform on May 30.
The forum is titled, Knowing the Impact: Count Me In: Constitutional Recognition of Aboriginal People, and will highlight the recommendations by an expert panel, appointed by Prime Minister Julia Gillard in late 2010 and reported in January 2012, about options for this recognition.
Director of the Bob Hawke Ministerial Centre Elizabeth Ho says the Centre is delighted to be a co-host.
"This forum is an opportunity for the community to engage with major constitutional developments which affect us all," Ms Ho said.
"We each have a role to play in these major decisions which will shape the future of our country."
Scheduled during National Reconciliation Week, the forum explores the importance of having a referendum when all Australians fully understand the proposed changes and issues.
It is also a part of Anglicare SA's campaign Count Me In, a mission to educate Australia about constitutional recognition and encouraging people to make their vote count.
The forum aims to provide an important insight into a nationwide conversation, which continues to gain momentum with federal support for a referendum.
Panellists for the forum are: the Hon Robyn Layton AO, Adjunct Professor at UniSA, Co-Chair of Reconciliation SA and Ambassador for Count Me In; Khatija Thomas, Commissioner for Aboriginal Engagement; and Professor Peter Buckskin, Co-Chair Reconciliation SA and Dean: Indigenous Scholarship, Engagement and Research at UniSA.
The forum will be chaired by Dr Lynn Arnold AO, Reconciliation Ambassador, and CEO of Anglicare SA and hosted by Elizabeth HO OAM, Director of UniSA's Hawke Centre.
UniSA Dean: Indigenous Scholarship, Engagement and Research and forum panellist Professor Peter Buckskin says all Indigenous and non-Indigenous Australians need to be engaged in constitutional change.
"Reform must go beyond the preamble; we need to amend parts of the Constitution so it protects the rights of all Australians and deals with sections pertaining to race (section 51) and delete areas around section 25, relating to voting and race," Prof Buckskin said.
"We know that more than 85 per cent of Australians believe the relationship between Indigenous and non-Indigenous Australians is important, so let's build on that fact, creating a nation-building event that delivers true reconciliation. This will be a sign of the maturity of our country."
This free event will be held on May 30 in the Allan Scott Auditorium at UniSA's City West campus, at 5.30pm for a 6.00pm start. Registrations are essential – click here to register or call 8302 0215.
Media contact: Michèle Nardelli office (08) 8302 0966 mobile 0418 823 673 email michele.nardelli@unisa.edu.au