100 years of war in Australia - UniSA symposium looks at the impact on our nation
November 18 2015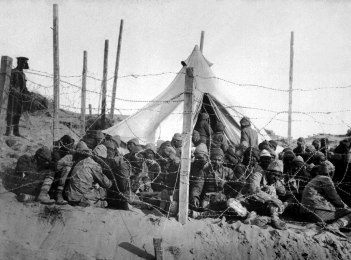 One hundred years after allied forces touched down in Gallipoli, researchers from around Australia will travel to Adelaide to reflect on Australia's involvement in war, from WWI through to the War on Terror.
The conference, being held at UniSA's Magill Campus, will highlight key issues surrounding Australia's involvement in conflict, war and peacekeeping operations in the past century, and attempt to predict the next 100 years of Australia's military engagement.
The 2015 Narratives of War symposium will feature a number of experts and veterans including keynote addresses by Colonel Rob Manton, a veteran of the Iraq war with 30 years of service; Majors Sally Heidenreich and Alex Heidenreich, both serving in the Australian Army today; Felicity Packard, award-winning screenwriter for the mini-series ANZAC Girls; Bill Corey OAM, author of Rats, Rifles and Rations: Remembering & Reflecting; and Dr Azer Banu Kemaloğlu, Assistant Professor at Çanakkale Onsekiz Mart University in Turkey.
UniSA Senior Research Fellow and scholar of modern Muslim affairs, Dr Nahid Kabir will also present at the conference, in an attempt to raise the awareness of Muslim assistance in Australian military operations involvement in the past 100 years.
"Muslim contribution to Australian society during wartime is not widely known or reported and it is important to increase awareness of their involvement," Dr Kabir says.
"During WWII, some Muslims displayed their loyalty by joining the Australian Army and fighting for the British Empire.
"After 9/11 there was definitely some discrimination towards Muslims, which I can understand."
Originally from Bangladesh, Dr Kabir achieved her PhD on Muslim immigration to Australia from the University of Queensland.

She will be speaking on the second day of the symposium about her research findings including reflections on the current state of Muslim integration in Australia and the involvement of Australian Muslims during both World Wars, and the War on Terror in the Middle East.
"During both WWI and WWII some Muslims in Australia were kept under surveillance. After the 9/11 attacks there was a lot of hostility towards Muslim here," Dr Kabir says.
"But now many people in the wider community are working towards increasing dialogue and awareness of the issues and I believe that in the next 100 years we will see a better, more inclusive Australia."
The Narratives of War symposium will be held from November 19-20 at the Amy Wheaton Building at UniSA's Magill Campus.
Media contact: Michèle Nardelli office +61 883020966 mob 0418823673 email michele.nardelli@unisa.edu.au