University of South Australia property graduate takes the lead at Stockland
December 07 2012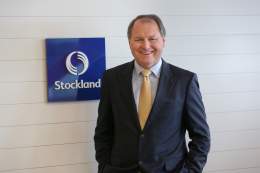 University of South Australia property graduate, Mark Steinert, has been announced as the new Managing Director and CEO of Stockland, Australia's largest diversified property company.
When he takes the reins in January, Steinert will become only the fourth Managing Director in Stockland's 60-year history.
Having completed the UniSA degree in property, Steinert worked with international property consultants, Jones Lang LaSalle, before embarking on an impressive 18-year career at global investment bank, UBS. During his time at UBS, Steinert spent several years based in New York, where he rose to become Global Head of Securities Research and Relationship Management and, ultimately, Global Head of Product Development and Management.
UniSA property lecturer Dr Geoff Page taught Steinert during his degree and remembers him as a deep thinking student.
"He was one of those students who always wanted to understand why – he questioned," Dr Page says.
"At the time I know he had some doubts about studying property – he thought maybe he could serve the community better as a police officer."
Professor of Property at UniSA Prof David Parker says Steinert's success in what is a highly competitive market place is a credit to his character and his education.
"Mark's success is a great tribute to the high quality of property education provided by the UniSA property team but also to the way he has used that foundation to build his career.
"As we tell all of our students, a degree in property from UniSA allows you to work anywhere in the world and the only limit on your career progression is your own ambition."
Media contact: Michèle Nardelli office: 08 8302 0966 mobile: 0418 823 673 email: michele.nardelli@unisa.edu.au