University of South Australia welcomes a greener, safer West End streetscape
May 04 2012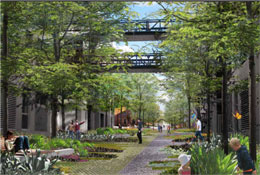 A $4 million investment to deliver a greener, safer, foot traffic-friendly environment in the city's West End has received strong endorsement from University of South Australia Vice Chancellor Professor Peter Høj.

The plan announced today by Premier Jay Weatherill, will signal the development of a laneways culture in the West End with better pedestrian links between North Terrace, Hindley and Currie Streets and a greening of the environment.

Prof Høj said the announcement represented a significant milestone in the University of South Australia's vision for a revitalised and re-energised West End.

"I am delighted with the support and collaboration we have seen from State and Federal Government and the Adelaide City Council to join us in funding the project and setting the plan in motion," he said.

"The initiative is a central part of UniSA's Master Plan for the City West campus and will complement the excellent design of buildings and learning spaces we have under construction – a key element being the $85 million Learning Centre taking shape in Hindley Street right now."

Prof Høj said plans for the expansion of City West campus had been designed with a specific goal to integrate Hindley Street with the development and create natural links through to North Terrace and other new developments such as the SA Medical and Health Research Institute and the new Royal Adelaide Hospital.

"There are several new developments, including the exciting Riverbank project, soon to come online in Adelaide that are set to transform the feel of the city and we see the work we are doing to develop our City West campus as an important part of that rejuvenation," he said.

He said the designs for the campus had been developed with key priorities in mind – an emphasis on making the University much more a part of the community by making it physically accessible; a commitment to green design principles and energy efficiency; and a goal for the area to be safe for pedestrians and cyclists.

"There is huge potential to make this part of the city a hub for culture, learning, health, art and science and we hope to spearhead that shift," he said.

UniSA's new Learning Centre is due to be completed in December 2013 and will cater for an additional 1800 students bringing the number of students engaged with the campus to more than 13,000.

The Hindley Street upgrade is part of a $12 million package of measures from State and Federal Governments the private sector and the Adelaide City Council to regenerate the city's public spaces.
Media contact