Student wine club sheds light on Asian wine tastes
August 02 2012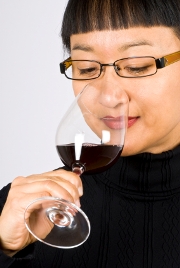 In what is set to be one of the most enjoyable research projects around, the University of South Australia's wine marketing researchers are establishing a wine club that will not only educate its student members, but may offer invaluable insights into the tastes and styles of wine that will be a hit in South East Asia, and particularly in China.
The Kelosphera Wine Club (Esperanto for cellar world) is set to kick off in August at City West campus and is open to all domestic and international students.
Researchers are hoping to attract a fair share of international students and specifically students from the Asian region to learn more about wine drinking tastes and attitudes as part of their research.
UniSA lecturer in the School of Marketing Dr Armando Corsi says the approach to the research is quite novel.
"We think the model for this project of using the foundation of a club to gain an insight into how an 18 to 30 year-old cohort approaches wine has some real benefits," Dr Corsi says.
"The students will be part of a framework for sampling and enjoying wine that is educational so they will be learning about wine structure, flavours, production and many other aspects of the wines.
"It will also encourage the discovery of wine as part of a group where there is time to enjoy and discuss the wines with others who are also learning. At the same time it helps us to understand their changing preferences as they learn more and taste more wines – so in a way it captures the evolution of their tastes."
Students joining the club for a small lifetime fee of $10 will have a pre-course education session with a wine educator from the National Wine Education and Training Centre. The two hour session comes with an official certificate of attendance.
Following the initiation into wine tasting, there are places in two classes for weekly wine education sessions over five weeks for student wine club members. These sessions will include wine-tasting and presentations from a certified wine educator.
"At the club education meetings each week the student members will sample several wines," Dr Corsi says.
"When this first course of activities is complete the club will feature an end-of-course event to celebrate and of course enjoy more of the wines they have learned about, with food and conversation."
Dr Corsi says the club is a serious wine education venture and that will have two-way benefits.
"We know that the Chinese market and the markets for wine more generally across Asia are emerging rapidly and that growth is being led by a younger cohort," he says.
"Learning about wines and tasting them allows the development of more educated and sophisticated buying and drinking behaviours, and at the same time as researchers, we'll be learning more about young people's preferences and be able to gather information that can support Australian winemakers to deliver the right sorts of wines for this burgeoning market."
Dr Corsi says funding support from the Grape and Wine Research & Development Corporation (GWRDC) has made the formation of the club possible.
"My research collaborator, Professor Larry Lockshin and I believe the club will provide a rich resource of information and hope our results will help the Australian wine industry to be more competitive in the international arena," he says.
In order to join the Kelosphera Wine Club, please click here and hit "Join now".
Michèle Nardelli office: 08 8302 0966 mobile: 0418 823 673 email: michele.nardelli@unisa.edu.au