News and Events
UniSA Mount Gambier hosts Australian Softwood Timber Industry Statistical Process Control Workshop
UniSA's Forest Research: Mount Gambier was the host for an Australian Softwood Timber Industry Statistical Process Control workshop from 29 July to 2 August 2019. The workshop was delivered by Professor Jeff Morell, Director of the National Centre for Timber Durability and Design Life at the University of Sunshine Coast, Professor Tim Young, Graduate Director in the Department of Forestry, Wildlife and Fisheries, University of Tennessee and Dr Geoff Broughton, Director of TimberED services.
17 key people from the 7 major structural timber companies in Australia attended the workshop from all states except NT and ACT. The workshop was organised by Forest and Wood Products Australia at the request of the industry and aligns with UniSA's intent to support the National Institute for Forest Projects Innovation project which it is undertaking, one of which is characterising structural timber in Australia.
The need for the workshop arose because the timber products industry collects large amounts of data and there is an opportunity to use statistical tools to turn this into information to produce quality timber products. There has been a resurgence of interest in timber products because of the recognition of their benefits to the capture of carbon. Industries that do not make the best use of the data they have are unlikely to be competitive in the future.
The feedback from the participants was that the workshop was a great opportuity to network with others that work in different forest industry companies that wouldn't normally meet. The course content covered statistical process control, Australian timber standards, timber durability and treatment testing. A mill tour and several practical exercises were included.
Future workshops may focus on a different cohort within the timber industry and an online course may be developed to reach an even wider group of people in the industry.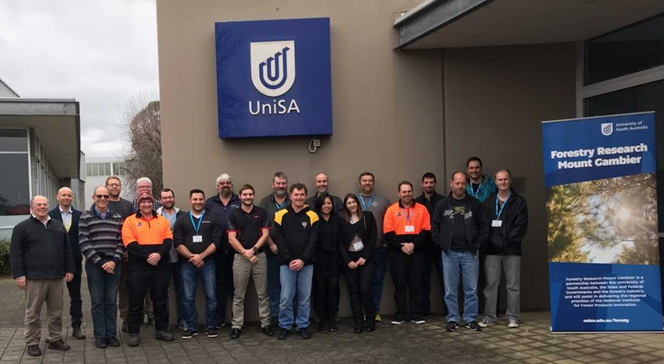 Participants in the Australian Softwood Timber Industry Statistical Process Control Workshop hosted by UniSA's Mount Gambier Campus