Water meter testing and calibration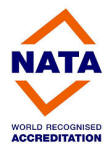 The Australian Flow Management Group (AFMG) carry out water meter testing and calibration, with or without adjustment, to Australian and international standards.
Specification and capability
NATA accredited as a calibration facility, accreditation number 17135
Maximum calibration/test flow rate 510L/s
Minimum accredited calibration/test flow rate 18L/h
Least measurement of uncertainty 0.07% for gravimetric calibrations between 0.05L/s and 0.7L/s
Calibration through gravimetric or comparison methods
NMI approval status as a Verifying Authority for initial verification, or re-verification and sealing meters, and NMI approval status as an Approving Authority to Pattern Approve meters.
Legal metrology capabilities
Verifying Authority
As a verifying Authority the AFMG is able to test and seal water meters under National Measurement Regulations 1999.
As an independent Calibration and Testing laboratory the AFMG is not owned by a Utility Meter manufacturer, or Water Supply organisation.
Approving Authority
As a Approving Authority the AFMG is able to Pattern Approve meters under the "National Measurement Regulations 1999".
As a instrument of trade measurement, water meter models are increasingly being required to have pattern approval. Initialy this was only required for 20mm domestic potable water meters. However now it is extending to larger urban and non-urban meters.
The AFMG is capable of initialy verifying meters to both NMI R 49 and NMI M 10, for more information on legal metrology refer to the website of the National Measurement Institute.
Further information
For further information on water meter testing and calibration please contact AFMG Enquiries.