Electrical EMC immunity testing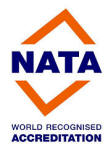 The Australian Flow Management Group (AFMG) have the capacity to test electrical components to several immunity standards. These tests are conducted and reported against Australian and/or international standards.
We also offer testing of electrical equipment to determine Ingress Protection (IP) ratings or IP68. The commissioning and use of this system is based on two standards:
AS 60529 Degrees of protection provided by enclosures (IP Code)
IEC 60512-11-8 Section 8: Test 11h _ Sand and dust
With respect to NMI M 10 and NMI R 49, the AFMG is capable of conducting these IP rating tests on water meters.
Most of the testing services offered are covered by the AFMG's NATA scope of accreditation.
Specification and capability
Electrostatic Dicharge (ESD) testing in accordance with NMI M 10, AS/NZS 61000.4.2, IEC 61000-4-2, EN 61000-4-2
Fast transients: NMI M 10, AS/NZS 61000.4.4, IEC 61000-4-4, EN 61000-4-4
Voltage dips, short interruptions and voltage variations: NMI M 10, AS/NZS 61000.4.11, IEC 61000-4-11, EN 61000-4-11
RF immunity testing in accordance to Radiated Immunity: NMI M 10, NMI R 49, AS/NZS 61000.4.20, IEC 61000-4-20, & EN 61000-4-20 in the frequency range 20MHz to 6GHz. Note that this RF immunity testing is not currently (June 2012) covered by our NATA accreditation.
Further information
For a quotation or further information on EMC testing please email Chris Preece.