Overview
Southern Hemisphere Space Studies Program
13 January to 14 February 2020

SHSSP Class of 2020, Mr Stephen Patterson MP, Professor Simon Beecham, Associate Professor Ady James, Mr Göktuğ Karacalıoğlu, Mr Anthony Murfett, Auntie Elaine Magias
---
The Southern Hemisphere Space Studies Program is conducted by the University of South Australia in partnership with the International Space University (ISU).
The program provides a multidisciplinary understanding of the key activities and areas of knowledge required by today's space professions, including
space science and exploration
space applications and services
human spaceflight and life sciences
space systems engineering and technologies
space policy, economics & law
space business and project management and
space humanities, communications, art & culture
The program is open to Australian and international participants from all disciplines
---
Who is this Program For?
The Southern Hemisphere Space Studies Program is designed to meet the needs of:
Professionals in industry, government and the defense services
Graduate researchers
Undergraduate students who have completed two years of their studies.
---
Content of the program
Core lectures from faculty and invited experts on the principles and concepts involved in disciplines ranging from space sciences to space humanities, and deep-space exploration to space applications for our home planet.
Hands-on workshops and field trips often linked with lectures, including activities in areas such as:
model rocket design, manufacture and launch
nano satellite simulations with stratospheric balloon
Cubesat build and test
satellite ground station operations
simulated legal, policy and commercial problem solving and debate
Public space events including an astronaut event and expert panels on topics of importance to the space world. For information on past public space events please click here.
An interdisciplinary team research project involving all participants. To see examples of past team projects please click here.
---
What Credit is Available in Other Programs?
On successful completion, participants will receive:
A Certificate from ISU

An Executive Certificate from UniSA
Holders of the Executive Certificate will receive 50 percent credit upon admission to the UniSA Graduate Certificate in Space Studies and may be granted credit in a UniSA undergraduate program with the approval of the Program Director.
Students may be able to receive credit in graduate and undergraduate programs in other Australian and overseas universities upon completion of the Southern Hemisphere Space Studies Program or the UniSA Graduate Certificate in Space Studies. Obtaining credit will be the responsibility of the individual student.
---
What is the program fee?
The 2020 program fee is $14,000 AUD. The program fee includes all tuition, accommodation, meals and airport transfers.
---
Is there financial aid?
Details of Australian scholarships for the 2020 Southern Hemisphere Space Studies Program are provided below. Information on other sources of funding can be obtained from the International Space University by emailing inquiries.sh-ssp@isunet.edu.
2020 Scholarship opportunities
---
Program Management Group
Mr Göktuğ Karacalıoğlu
Program Director, Southern Hemisphere Space Studies Program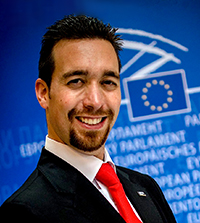 Mr Göktuğ Karacalıoğlu is the Director of the Space Studies Programs at the International Space University, Strasbourg (ISU).
Mr Karacalıoğlu holds a Bachelor of Science in Mechanical Engineering and two cum laude Master of Science in Engineering Management and Space Sciences. Following his studies, he spent six years as a launch system and centre design engineer before joining the mission design team at NASA Ames Research Center, where he specialised in small spacecraft and space debris mitigation projects.
Joining the International Space University (ISU) in 2010 as a participant in their Space Studies Program (SSP), Mr Karacalıoğlu maintained his extensive involvement with the program after moving to France in 2013. He has since served the program in various capacities, including as Participant Liaison, Academic Coordinator, and Deputy Director.
Mr Karacalıoğlu is a respected figure in the space industry, having been awarded two Space Generation Advisory Council (SGAC) scholarships for his reports on launch vehicle failures and the impact of satellite launches on orbital debris.
Dr Ady James
Program Co-Director, Southern Hemisphere Space Studies Program
Dr Ady James is a Senior Lecturer at University College London (UCL) where he teaches Systems Engineering, Space Studies and Project Management. He obtained a Ph.D. in Space Science at University College London's Department of Space and Climate Physics in 1997, where he developed a fast ion spectrometer for the Russian Mars 96 spacecraft.
After completing his PhD he worked on various space programs including Mars 96, Cluster II, XMM Newton, MOSES and, most recently, Solar-B (Hinode) launched in 2006. He then spent 4 years as project manager for the Basic Technology Smart X-ray Optics program up until October 2010 and then as Systems Engineer for the VIS instrument on the ESA Euclid Space project until early 2012.
In early 2012 Dr James moved to Australia to establish the Mullard Space Science Laboratory (MSSL) here, initially in the existing UCL campus in Adelaide, and now within the University of South Australia where he holds an adjunct position. During this time he has taught Project Management and Systems Engineering as well as supervising numerous MSc and PhD student. Dr James has been involved in the Southern Hemisphere Space Studies Program since 2012 and was co-Director for the 2018 and 2019 programs.
Dr James is a Fellow of the Association of Project Management and Senior Fellow of the Higher Education Academy.
For enrolments or further information please visit