STEM Girls Champion
STEM Girls Champion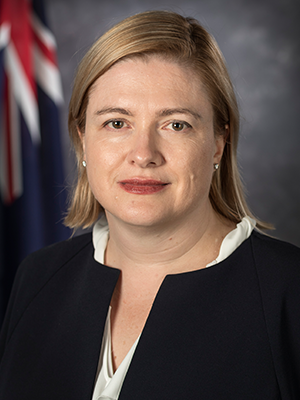 Professor Tanya Monro, FAA, FTSE, FOSA, FAIP, GAICD
Professor Monro is Chief Defence Scientist of Australia, and the first woman appointed to this role.
Professor Monro is the STEM Girls Champion and initially accepted the role in 2018.
Tanya was the inaugural Director of the Institute for Photonics and Advanced Sensing (IPAS) from 2008 to 2014 and was also the inaugural Director for the ARC Centre of Excellence for Nanoscale BioPhotonics (CNBP) at the University of Adelaide. Her research is in the field of photonics, with a focus on sensing, lasers and new classes of optical fibres.
Tanya obtained her PhD in physics in 1998 from The University of Sydney, for which she was awarded the Bragg Gold Medal for the best Physics PhD in Australia. In 2000, she received a Royal Society University Research Fellowship at the Optoelectronics Research Centre at the University of Southampton in the UK, and is also an inaugural Bragg Fellow of the Royal Institution of Australia (RiAus).
Tanya is a Fellow of the Australian Academy of Science (AAS) the Australian Academy of Technological Sciences and Engineering (ATSE), the Optical Society of America (OSA) and the Australian Institute of Physics. She is a member of the Prime Minister's Commonwealth Science Council (CSC), and a Board Member of the Commonwealth Science and Industrial Research Organisation (CSIRO), the South Australian Defence Advisory Board, and the South Australian Economic Development Board.
Tanya's awards include: Eureka Prize for Excellence in Interdisciplinary Scientific Research, South Australia's "Australian of the Year", Scopus Young Researcher of the Year, South Australian Scientist of the Year, and the Prime Minister's Malcolm McIntosh Prize for Physical Scientist of the Year.
Professor Monro was UniSA's Deputy Vice Chancellor Research and Innovation for four and a half very successful years, and will continue as Professor (Emeritus), UniSA.
2016 - 2017 STEM Girls Champion
Dr Laura-Anne Bull was Pro Vice Chancellor: Student Engagement & Equity at the University of South Australia.
Laura-Anne was responsible for ensuring access, participation and success for all students irrespective of background; and for leading initiatives that ensured that students were fully engaged, supported and benefitted from their whole university experience.
In 2019, Dr Laura-Anne Bull was appointed to James Cook University as Deputy Vice Chancellor (Students).