Program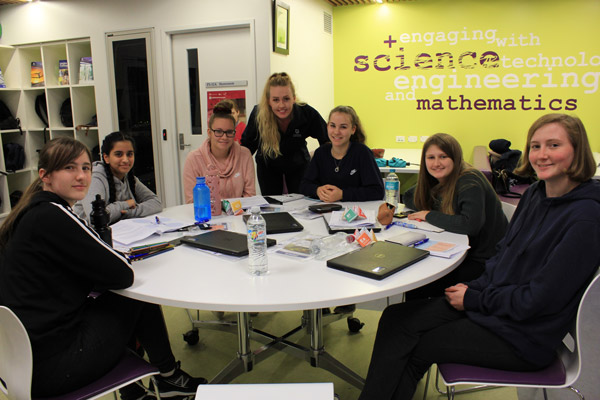 Photo: STEM Girls participating in Inquiry Day 2 Career Conversations
Program
Nominated students attend two Inquiry Days at a University of South Australia campus and the STEM Girls Conference. Initially, the girls engage in authentic STEM learning with like-minded peers from other schools in the local community. During the two day STEM Conference in Adelaide, STEM Girls come together from all five clusters to continue their STEM learning, networking and exploration of careers.
STEM Ambassadors are teachers who advocate STEM pathways for girls and identify educational opportunities to promote STEM careers. STEM Ambassadors mentor the STEM Girls and facilitate information sharing with the wider female community in their school.
Prior to the commencement of the program, STEM Ambassadors are invited to a cluster networking function to meet other STEM Ambassadors and share experiences to support each other.
Inquiry Day 1
Biomechanics and Career Exploration
The Biomechanics program is contextualized to allow students to explore the STEM concepts and applications integral to the field of biomechanics. Of particular importance, is understanding the interrelationship of mathematics, physics and biological concepts within the scope of biomechanics. Students are engaged in practical investigations using a range of biomechanical sensors and devices.
During the Career Exploration program, students complete a My Career Match profile and career mapping plan. This is used to explore tertiary entry pathways.
Inquiry Day 2
Firework Functions and Career Conversations
The Firework Functions program investigates the mathematics involved in staging a major public event, in this case a fireworks display. Students use statistical analysis, safety guidelines, mapping techniques, quadratic and vector analysis, and fundamental calculus. The final product is a proposal for local government to stage a public fireworks event.
During Career Conversations, girls meet and engage with female STEM professionals who will share their academic and career journey. The girls will have the opportunity to ask their own questions.
STEM Girls Conference
The STEM Girls two day Conference is the culmination event that brings all STEM Girls together.
STEM Girls from all four clusters are provided with the opportunity to meet, build relationships, develop and practice networking skills, and visit STEM industries.
The STEM Girls Conference has three major components;
Networking Seminar
Girls from all five clusters have the opportunity to meet and network. During the seminar, the STEM Girls will be guided through the principles of networking and communication, examine strategies for pursuing future opportunities and developing successful careers. The exploration of careers continues with information on application writing, resume development and interview skills.
STEM Ambassador Networking Seminar
Concurrent to the STEM Girls Networking Seminar is an Ambassador Seminar, where STEM Ambassadors network and explore cutting edge research with UniSA STEM and research professors.
Networking Dinner
Students will meet, listen and network with women in STEM careers. The STEM Girls Champion and keynote speakers will share their STEM journeys with the girls. The event provides the STEM Girls with an opportunity to practice their communication and networking skills, and to make valuable connections with STEM professionals.
Industry Day
The Industry Day showcases some of South Australia's STEM industries and introduces students to women who work for these companies. Girls visit at least three sites to view the industry's practices, processes and learn about career opportunities.
2020 Program dates
Cluster Campus Location

STEM Ambassador
Welcome Function

Inquiry Day 1

Inquiry Day 2

STEM Girls Conference

Mawson Lakes 1

Friday 15 May

(at Magill)

Monday 18 May

Monday 3 August

Thursday 17

and

Friday 18

September

Mawson Lakes 2

Friday 15 May

(at Magill)

Tuesday 19 May

Tuesday 4 August

Magill

Friday 15 May

(at Magill)

Thursday 21 May

Thursday 6 August

Whyalla

Monday 11 May

Tuesday 12 May

Tuesday 28 July

Mt Gambier

Monday 4 May

Tuesday 5 May

Tuesday 11 August