Education precinct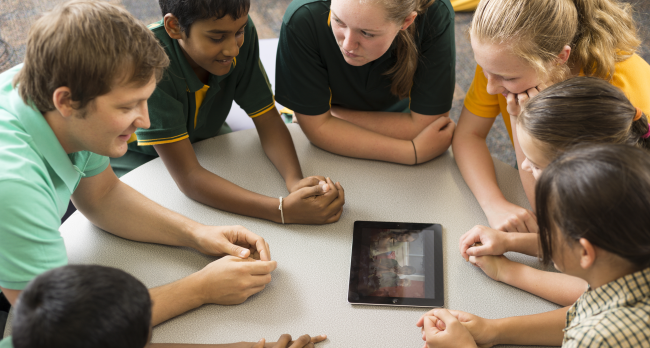 UniSA's goal to revolutionise the education of educators is taking shape in the plan for a new education precinct at the University's Magill campus. In partnership with the Government of South Australia and representatives from the entire schools sector, UniSA will not only consolidate its education offerings at the campus but will also support the foundation of birth to year 12 education on campus, opening up unique opportunities for best practice teaching and learning.
Samsung SMARTSchool

In partnership with Samsung Electronics Australia, UniSA has built Australia's most technologically advanced and first purpose-built, digitally-enhanced and immersive teacher-training facility at its Magill campus
The Samsung SMARTSchool supports advanced teacher education and research from reception through to secondary school, with a focus on science, technology, engineering, and mathematics (STEM). It allows teachers to collaborate and engage in critical thinking, creatively problem solve real-life problems and build their technological proficiency.
The facility features a suite of Samsung technology including video walls, outdoor PCs, smart watches and tablets, virtual reality headsets and more.
For more information visit the Samsung SMARTSchool webpage.
Magill Education Precinct Vision Statement
Professor David Lloyd, Vice Chancellor and President of the University of South Australia, and Tony Harrison, Chief Executive of the Department for Education and Child Development, have together developed a vision statement for the Magill Education Precinct project.
The vision outlines what UniSA in partnership with the State Government will deliver and the benefit this project will have for the state.
"The proposed Precinct will deliver a unique combination of teaching, practice and research. It will provide opportunities for university researchers and practising teachers to work together more extensively to investigate what works in the classroom and beyond; it will enable school students to experience first-hand how teachers are trained, leading more to choose that profession: and most importantly it will provide a range of opportunities for student-teachers to work in the classroom with both practitioners and researchers in a range of settings both on the Precinct and across the schooling sector.
We see the Precinct as a resource for the whole state, providing a core for evidence-based innovation in education which will radiate throughout our education system, providing opportunities for professional development in an environment that supports innovation and the exploration of new approaches to teaching and learning and school leadership."
View the full Magill Education Precinct Vision Statement.
View the Magill Education Precinct Planning Study Executive Summary
For more information visit UniSA's Education Vision. The master plan for this precinct is currently in development.
Food Vendors and Social Spaces
To create a campus that our future educators want to study at, our Building A is now home to a social and eatery space where our students can take a break. With plenty of indoor and outdoor seating, a student lounge, campus shop The Co-Op, and new eateries including Since I Met Harry and Phat Buddha Rolls, Building A builds upon the campus's vibrancy and learning environment.
Discover more about Magill campus' food vendors.