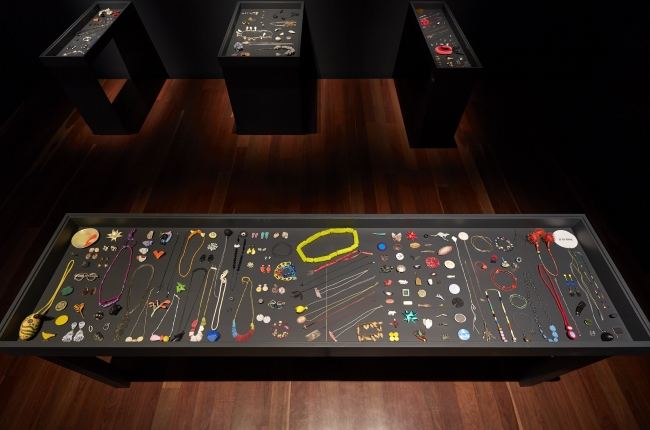 Revealed3: someone's and everyone's
Friday 3 June – Friday 29 July 2016
Our third and final instalment in Revealed, the Samstag Museum's series of exhibitions that take the pulse of contemporary private collecting, focuses on contemporary jewellery.
With contemporary jewellery, a private acquisition becomes a public display. Adorning the body in plain view, it is worn ostensibly for the wearer's enjoyment whilst being exhibited to others. We are rarely privileged, however, to view a collection in its entirety – a treasure trove of pieces chosen over time and with great personal attention, reflecting interests, experiences and relationships. Revealed3: someone's and everyone's is a glimpse into this often-overlooked act of personal curating.
Through four very different South Australian collections, someone's and everyone's allows us to examine the role of the collector in supporting artists working in the visual practice of contemporary jewellery. Built over the course of a lifetime out of a passion for beautiful and sometimes challenging objects, these collections demonstrate not only the craft and imagination of the makers but also the collector's own taste and story. Join us and delve into the fascinating motivations behind the gathering of these private yet very public works of art.
Revealed3: someone's and everyone's is a Samstag Museum of Art exhibition presented in association with JamFactory, and proudly supported by naming sponsor Lipman Karas.
READ: Every Collection Is a Story: Four Jewellery Collections in Adelaide by Julie Ewington