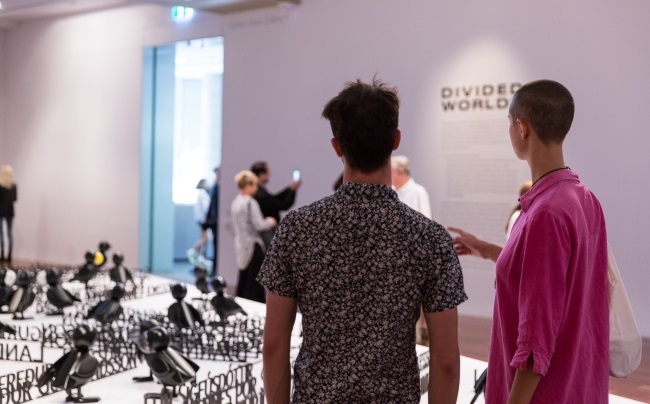 Gallery Open
Tuesday to Saturday, 10am — 5pm
or by appointment, with extended hours for special events
and exhibitions. Closed public holidays and during exhibition changeovers.
Cost
Admission to the Museum and associated talks and events is free, and all visitors welcome.
Visiting
The Samstag Museum of Art is located on North Terrace, at the University of South Australia's City West campus, an easy 15-minute walk from the city centre.
The Museum is on the corner of Fenn Place and North Terrace. Entry is on the ground floor of the Hawke Building.
To view a map of UniSA City West Campus click here.
By tram
Free city trams to the Museum operate daily. Exit at the City West stop. The Museum is located 100 meters tram stop, on the corner of Fenn Place and North Terrace.
By train
Adelaide Railway Station is a ten-minute walk from the Museum. Exit the station, turn right onto North Terrace and walk west 600 metres.
By car
Paid parking stations are located along North Terrace. Wilson Parking is located one block away on the corner of Hindley Street and Clarendon Street. The nearest access park is located at the edge of the campus on Morphet Street, opposite Jam Factory.
Taxi
The nearest taxi rank is on North Terrace outside the Railway Station and Casino, approximately 700 metres east of the Museum.
Schools & Groups
Samstag welcomes school and community groups to the Museum. We request that group visits are booked in advance, and can be scheduled outside normal opening hours if needed. Our talks and tours are free.
Students and teachers are warmly invited to our ON ART talks & events. For groups with hearing impairment the museum can provide an Auslan interpreter.
Access
We welcome all visitors to the Samstag Museum of Art. All areas of the Museum are accessible by wheelchair or with prams.
Samstag is committed to ensuring its programs and activities are accessible to everyone.
We welcome guide dogs and assistance dogs.
Please ask at reception if you need any assistance, or if you have access questions while planning your visit, contact Curatorial Assistant Anna Zagala
E anna.zagala@unisa.edu.au.
To view a map of access facilities at UniSA City West Campus click here.
Food + Drinks
There are plenty of options to eat and drink nearby.
A few of our favourites:
Cafes: Abbots & Kinney | Peter Rabbit
Dining: Food Lore | Honki Tonki | Peel Street | Sunny's
Bars & Pubs: West Oak | Clever Little Tailor | Pink Moon Saloon
While you are here, consider dropping into the SASA Gallery, ACE Open, JamFactory, Nexus, and MOD. across the road!