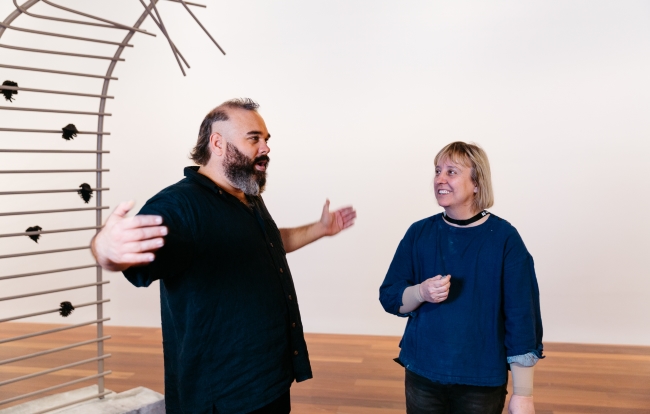 ON ART
Performances, talks and workshops that provide a platform for critical thinking and discussion around contemporary art.
Our ON ART Winter Season responds to our two premiere exhibitions by South Australian artists:
Louise Haselton: like cures like, Sandra Elms: Closer

Opening Event
Thursday 1 August, 5 – 7pm
Opening two premiere exhibitions celebrating South Australian artists. Featuring a poetry reading by Ken Bolton.
Monte Masi: llllllllllllllllllll
Saturday 3 August, 1 – 2pm
Monte Masi's performance, llllllllllllllllllll (twenty lower case L's),
is about his relationship with Louise Haselton's art practice, exploring the conventions of the gallery floor talk as a vehicle for strange sounds and intimate narratives.
llllllllllllllllllll continues Masi's interest in the language that surrounds exhibitions and art making, while responding to Haselton's distinctive use of language and lively engagement with collected materials.
2019 SALA Monograph Launch
Louise Haselton in conversation with Gillian Brown

Saturday 24 August, 3.30pm – 4.30pm
Louise Haselton joins exhibition curator Gillian Brown in conversation as part of a series of artist talks in the West End Creative Precinct for SALA Festival.
This event coincides with the launch of the
2019 SALA monograph Louise Haselton: Act Natural, chronicling the inspirations, influences and ideas behind Haselton's extraordinary twenty-five year practice.
Narelle Autio in conversation with Tony Kearney
Saturday 14 September, 1 — 2pm
South Australian photographers Narelle Autio and Tony Kearney discuss the practice of Sandra Elms and that photographs that comprise Closer, with exhibition curator Joanna Kitto.
Zephyr Quartet: Domestic Alchemy
Thursday 26 September & Friday 27 September, 6 — 7.30pm
A musical response to Louise Haselton: like cures like written by Hilary Kleinig and performed by the Zephyr Quartet.
Zephyr Quartet are award-winning South Australian musicians who compose, arrange and improvise. Known for their spirit of collaboration, Zephyr are firm believers in the power of the string quartet as a medium to communicate and explore complex relationships between society and art.
Tickets $15 incl. a complimentary drink. Purchase yours here.