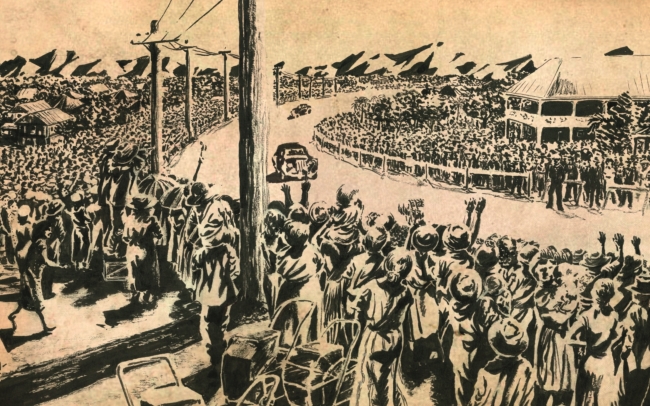 Adelaide Biennial Vernissage Weekend
Saturday 3 March — Sunday 4 March 2018
The Vernissage Weekend of the Adelaide Biennial is a celebration of contemporary Australian art. Delve into a program of free talks, panel discussions and performances featuring artists and thinkers in Divided Worlds.
Events takes place at the Art Gallery of South Australia, Samstag Museum of Art, JamFactory, ACE Open, Mercury Cinema, SASA Gallery, Santos Museum of Economic Botany and the Adelaide Botanic Garden.
Vernissage Weekend at the Samstag Museum of Art
Saturday 3 March
5 — 7pm | VERNISSAGE PARTY
Gather in Fenn Place for the West End celebration of the Adelaide Biennial as well as the launch of Christian Thompson: Ritual Intimacy and the 2018 Samstag Program!
Experience Mondo Futuro by Sean Cordeiro + Claire Healy (NSW). This work of art utilises a vintage retro-engineered Mercedes 220S, a car from the mid-1950s, which runs not on petrol or diesel but on a bio fuel derived from a process in which gas is extracted from heated wood.
Enjoy music by Max Savage and the False Idols with a pop-up bar by West Oak Hotel.
Sunday 4 March
11 — 12pm | ARTIST TALKS
Douglas Watkin (QLD) and Angelica Mesiti (NSW)
Join Divided Worlds artists as they discuss their work at the Samstag Museum of Art.
Sunday 4 March
1 — 2pm | BECOMING RESEARCH: THE WAY WE WORK NOW
University Art Museums Australia (UAMA) keynote address by Professor Irit Rogoff (UK).
Contemporary research no longer recognises the stricture of an informing discipline or the limitations of an interpretive audience. We have moved on from working from inherited knowledges to working from the conditions of our lives. It is in fact our work—no longer distanced by illusions of objectivity—that has capacities to change those conditions through forms of direct engagement, both intellectual and cultural. The way we work now, refracted through contemporary conditions and informed by a new vocabulary that goes beyond the critical, is a form of performative enactment.
Irit Rogoff is an international museum writer, educator and curator. She works at the meeting ground between contemporary practices, politics and philosophy and is currently Professor of Visual Culture at Goldsmiths, University of London, a department she founded in 2002.
This event has been initiated by UAMA who represent the nation's university art museum sector undertaking the exchange of information and ideas, and contributing to the public understanding of the significance of university art museums to the cultural fabric of the nation.
Sunday 4 March
2 — 3pm | ART AND THE WORLD WE KNOW
Vernon Ah Kee (QLD), Emily Floyd (VIC), Patrick Pound (VIC)
Chaired by Maria Zagala, Associate Curator of Prints, Drawings and Photographs at the Art Gallery of South Australia, this panel discussion asks if art, in a dangerous, deeply divided and troubled world, can realistically make a difference?
Sunday 4 March
3.30 — 4.30pm | THE SOVEREIGN WORLD OF ART
Lindy Lee (NSW) and Kristian Burford (SA)
Chaired by writer and curator Julie Ewington, this panel looks at the pervasive and international proliferation of biennials. What do these developments mean for Australian art?
The Vernissage Weekend is presented by the Art Gallery of South Australia with the support of the Adelaide Festival.
Free entry — all welcome! Bookings are not necessary, but please arrive early to avoid disappointment.
For full program and details visit artgallery.sa.gov.au
---