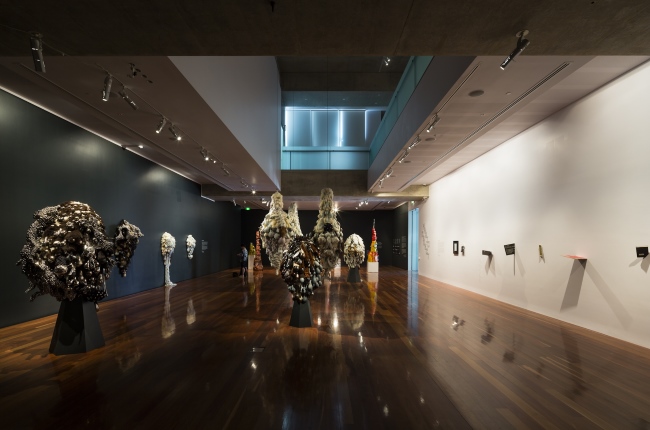 Saturday 15 October, 3 – 4pm. Join us for a conversation about the enigmatic Samstags, with co-authors of The Samstag Legacy: An Artist's Bequest – Lea Rosson DeLong and Ross Wolfe.
Thursday 13 October, 5 - 10pm. UniSA's 25th Birthday Festival, Fenn Place, City West Campus.Art After Dark celebrates UniSA's 25th Birthday with live music, exhibitions, openings, film, food and drinks.
5 –7pm. Mr Jim McDowell, Chancellor, University of South Australia and the Samstag Museum of Art Board take pleasure in inviting you to our celebratory 25th birthday exhibitions and book launch.
Meet the Samstags: Artists and Benefactors
Quicksilver: 25 Years of Samstag Scholarships
The Samstag Legacy: An Artist's Bequest
Guest speaker James A. Carouso, Chargé d'Affaires, a.i. of the Embassy of the United States of America
Thursday 29 September, 6pm for 6:30pm
Soundstream brings an aural experience like no other with Sympathy for the Devil, a world premiere adaptation of John Milton's Paradise Lost (1674) from sound artist Christopher Williams, to be presented at the Samstag Museum of Art. Sympathy for the Devilmedia release (opens in new window 247 Kb)
Thursday 22 September, from 5pm
Experimenta Recharge artist Leisa Shelton brings her Mapping Australian Media Art project to a special Art After Dark event. Join Leisa at the Samstag to share your memories of media art that made an impact on you, contributing to a very special archive. Please contact us on 8302 0870 or samstagmuseum@unisa.edu.au to RSVP for event.
Friday 16 September, 5:30 pm
To celebrate the Adelaide Festival Centre's OzAsia Festival, hear Samstag Museum of Art Curator Gillian Brown discuss Japanese creative group teamLab's work100 Years Sea, showing as part of Experimenta Recharge, before heading to the launch of Ever Blossoming at the Art Gallery of South Australia.
18 and 19 August
Art After Dark and Seniors on Screen SALA Festival tours. Explore behind the scenes of West End venues including AC Arts, AEAF, JamFactory, Mercury Cinema, Nexus, SASA and Format.
Art After Dark tour with artist talk by Gerry Wedd on Thursday 18 August from 6 pm.
Seniors on Screen tour on Friday 19 August from 1 pm
Thursday 18 August, 5 – 7 pm
Experimenta Recharge open until 7pm as part of Art After Dark
Holiday Activities (until Friday 29 July) Tues – Fri 11 am – 5 pm and Sat 2 – 5 pm
Create your own 2016 Fleurieu Art Prize landscape at our art + craft activity hub, or be inspired by our contemporary jewellery exhibition, Revealed³: someone's and everyone's and model your own piece to wear and take home.
Thursday 14 July, 5pm
Fleurieu Art Prize and Art After Dark present Towards an Antipodean Aesthetics of Nature and Landscape, a lecture on Australian Landscape Art with Margot Osborne.
Margot Osborne considers approaches to the Australian landscape in a special Fleurieu Art Prize lecture, proposing that contemporary Australian artists are evolving aesthetic paradigms of landscape that are inflected with a distinctive Antipodean sensibility.
2016 Fleurieu Art Prize lecture by Dr Margot Osborne Towards an Antipodean aesthetic of nature and landscape
Margot Osborne is an Adelaide writer, curator and art historian. She was curator of the exhibition, Abstract Nature, Samstag Museum of Art, 2010 and of JamFactory's national touring exhibition, Wild Nature in Contemporary Australian Art and Craft(2002-5). She was guest editor of issues of Artlink on 'Art/Mind/Nature' (2008) and 'Pattern and Complexity' (2012). She holds an MA (Studies in the History of Art), University of Adelaide, and is currently awaiting the conferral of her PhD Humanities and Social Sciences, University of Adelaide.
The winner for the 2016 Fleurieu Art Prize People's Chocie Award was announced as Kylie Stillman for her Flinders Ranges.
Thursday 14 April, 5pm-7pm
Make your own Magic Object
Model your own mini Magic Object! Be inspired by Ramesh Mario Nithiyendran's towering deities or Juz Kitson's suspended creatures of wonder and make a miniature clay object to take home to your own cabinet of curiosities.

Magic Cube Challenge
Test your skill in the Magic Cube challenge! Entrants will be judged on speed and puzzle prowess. The winner of the challenge will be awarded their very own Magic Cube.
Saturday 9 April, from 11am
Go on a MAGICAL MYSTERY TOUR of the 2016 Adelaide Biennial starting at Samstag Museum and finishing with a picnic lunch at the Art Gallery of South Australia. Meet the Dream Collector and dare to join him on a journey through the curious shadowlands of North Terrace. Discover the secrets of your own dreams and find out where they go when you wake. Cost includes picnic lunch $60/ $55 Concession/ $50 Members/ $35 Child (5-12 years)/ $155 Family (2 adults and up to 3 children). To book, please call 08 8207 7035.
17 March, from 5pm
Thursdays from 5pm, the West End precinct comes alive with a calendar of events for ART AFTER DARK. Our doors are open until late, with exhibitions, films, music, talks, food, beer and wine, workshops and MORE. Check out events here (opens in a new window).
Saturday 27 February, 10am - 5pm
Vernissage weekend 2016 Adelaide Biennial of Australian Art, Samstag Museum of Art, City West campus, UniSA and Sunday 28 February, Art Gallery of South Australia.
The 2016 Adelaide Biennial of Australian Art Vernissage weekend features talks, forums, music, performances, and other special events. Full program details here.
Friday 26 February, 5:30pm
Opening night 2016 Adelaide Biennial of Australian Art: Magic Object, Art Gallery of South Australia.
25 February | 17 March | 13 October
Art After Dark Summer Sounds program with a focus on student and graduate musicians playing live at exhibition openings and in the new UniSA Student Lounge. Hear the Summer Soundsmusicians live on campus on the following dates: