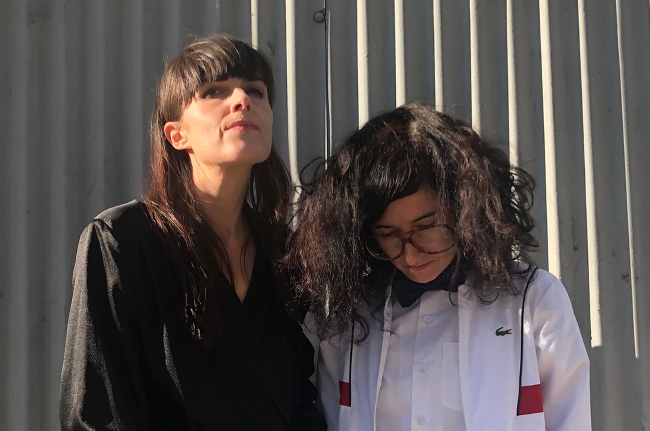 Soda_Jerk awarded the 2020 Samstag Museum of Art and Adelaide Film Festival 'Art & Moving Image Commission'
New York-based Australian two-person art collective Soda_Jerk have been awarded the 2020 Anne & Gordon Samstag Museum of Art and Adelaide Film Festival 'Art and Moving Image Commission'.
The $60,000 Commission is awarded biennially and is one of Australia's richest art and moving image commissions.
The presentation of Netsploits, commissioned by the Adelaide Film Festival Investment FUND, will be accompanied by a selected survey of Soda_Jerk's 17-year practice at the Samstag Museum.
The keenly anticipated follow up work to 2018's TERROR NULLIUS, Netsploits addresses the seismic cultural transformation wrought by the internet. The work merges documentary with narrative film running riot through the genres of dystopian sci-fi, Hong Kong horror, 70s political thrillers, 90s sitcoms, internet instructional VHS, Soviet spy films, anime, dank memes and the blockbuster musicals of the early 80s.
READ: Media Release
Samstag Museum of Art announces ANZAC Day program
Samstag Museum of Art launches two major exhibitions from the Australian War Memorial with an afternoon of conversation, performance, food and music on ANZAC Day, Thursday 25 April 2019.
This program invites audiences to reflect on the First Nations experience during wartime and peace, both on home soil and abroad with a performative response by the Unbound Collective and a unique culinary experience by artist James Tylor.
READ: Media Release
Adelaide//International Forum program revealed
Held on the opening weekend of the Adelaide Festival, the 2019 Adelaide//International Forum will provide a platform for debate on our changing and ever more connected world and will feature a performance by Eugenia Lim.
READ: Adelaide//International Forum schedule
Adelaide//International announced
Announced today, the Adelaide//International is a new series of exhibitions for the 2019, 2020 and 2021 Adelaide Festivals, each comprising works by artists from Australia and overseas, along with associated forum programs.
In 2019, two Australian artists — Brook Andrew and Eugenia Lim — and two international — Lisa Reihana (New Zealand) and Ming Wong (Singapore) — will be featured in an exhibition exploring histories of migration, the impact of cultural exchange on communities and individuals, and questions of who holds the power of narration.
"The best artwork at the Venice Biennale? That will be Lisa Reihana's in Pursuit of Venus... Where most panoramas present a fixed viewpoint, this one moves and unfolds in a riveting animated sequence that took 10 years to complete and that deserves to be recognised as one of the key artworks of recent years." – The Sunday Times, UK
READ: Media Release
Samstag Museum of Art unveils 2019 program
The Samstag Museum of Art has announced its 2019 program, comprising four Seasons during which nine exhibitions of quality and diversity will be presented alongside a dynamic series of performance and critical discussion.
"We are excited to bring another exceptional program of contemporary art from across Australia and overseas to Adelaide in 2019." — Erica Green, Director, Samstag Museum of Art
READ: Media Release
READ: Samstag Museum of Art 2019 program PDF
2019 Samstag Scholars announced
The University of South Australia is delighted to announce Elyas Alavi (SA) and Georgia Saxelby (NSW) as the recipients of the 2019 Samstag Scholarships. Alavi and Saxelby will take their socially engaged practices to the world stage.
READ: Virginia Rigney (ACT) on Elyas Alavi and Georgia Saxelby
READ: Media Release
Past News
2018 | 2017 | 2016 | 2015 | 2014 | 2013 | 2012 | 2011 | 2010