New talent and experience to represent Team UniSA-Australia in 2016
January 11 2016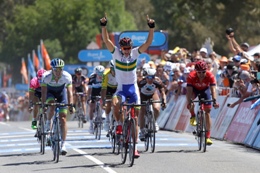 Seven of Australia's top young cyclists combining new talent and experience are set to represent Team UniSA-Australia in the Santos Tour Down Under, starting this Sunday.
Steele von Hoff – who produced an impressive stage win for Team UniSA in last year's Stage 4 finish in Mount Barker – and Anthony Giacoppo will bring experience to the team, with both cyclists having ridden with Team UniSA-Australia twice before (von Hoff in 2015 and 2012, and Giacoppo in 2014 and 2013).
New to the team are experienced Victorian all-rounder Patrick Shaw, and upcoming stars Sean Lake, Chris Hamilton, Lucas Hamilton and Pat Lane who will be keen to bring it up to the world's best.
Team UniSA-Australia is the Australian development team in the STDU. The 2016 team members were confirmed by Cycling Australia early this morning after the 2016 Mars Cycling Australia National Road Championships finished yesterday in Ballarat. Chris Hamilton and Lucas Hamilton dominated the Championships' under 23 road race, with Chris taking out honours at the finish line.
Team UniSA-Australia Ambassador and 2004 Tour Down Under winner Patrick Jonker says the seven riders selected for Team UniSA 2016 are currently the best riders in Australia with the best form.
"This team has been assembled to get a result, and get the best possible result," Jonker says.
"The TDU is now considered a hard event among the world's best pro teams, and I believe our 2016 team is one of the best for UniSA ever. It's going to be game-on from day one."
Jonker described the seven riders as a group of 'adventurers' who would be aggressive and "lay it on the line".
"Steele von Hoff is the dark horse of Australian cycling and he'll be out to win another stage," Jonker says.
"The Hamilton's are both very tactically astute, contributing to a smart team of riders for whom every pedal stroke will have a reason behind it.
"Similarly, Patrick Shaw and Pat Lane won't waste one ounce of power … everything they do will be done for a reason.
"I'm pretty excited about this team, welcoming Anthony and Steele returning, while also welcoming our newcomers who will have a great opportunity to showcase their talents to the world."
University of South Australia Acting Vice Chancellor Professor Allan Evans says the University is proud to support Australia's future stars of cycling in the Santos Tour Down Under.
"In our 25th birthday year, we are also celebrating our 16th year of support for the Tour," Prof Evans says.
"As a young and enterprising institution, UniSA is proud to give Australia's young and upcoming riders the chance to showcase their talent on the international stage.
"The seven riders announced in Team UniSA-Australia's 2016 team today are no doubt keen to bring it up to the world's best and we're delighted to help them fly the flag for Australian cycling."
See the Team UniSA-Australia Supporters' Club website for updates on the team throughout the Tour (January 16-24), follow the #TeamUniSA hashtag on Twitter, and like University of South Australia on Facebook. Watch our 2016 STDU stage previews on YouTube.
Media Contact Kelly Stone office (08) 8302 0963 mobile 0417 861 832 email Kelly.stone@unisa.edu.au