Corporate short courses and workshops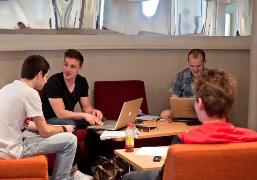 UniSA's Strategic Partnerships offers a range of two-day non-residential workshops designed in response to emerging issues and requirements expressed by industry. These seminars utilise the cutting edge management theory and research developed and resourced by the University's academic staff at the postgraduate level.
Specialist programs
Workshops, short courses and other developmental programs can be designed to meet specific needs, building on the practical experience of managers and professionals in your organisation.
Strategic Partnerships staff will work with your organisation to develop an understanding of your corporate goals and define topics for seminars and/or pathways to other graduate business and management programs at UniSA that support achieving those corporate objectives. All corporate education seminars can be customised to suit your organisation's requirements. They can include case studies and practical analysis modules of your business issues. It is also possible to package several seminars, to establish pathways to further study at UniSA, with curriculum and syllabus designed accordingly:
Delivery can be in-house at your location, at UniSA, at a training venue or online - the choice is yours
Content of the workshops can be tailored to particular organisational or industry contexts, using case studies and activities relevant to current strategic issues
Evaluation of outcomes is routine, and can be tailored to capture key issues in your organisation environment
Gaining credit for university studies
Completion of the relevant assessment projects associated with selected topics can lead to being eligible to apply for credit towards UniSA award programs.
Pricing
Attendance is offered at $1,200 plus GST if applicable per person for the two day modules with a 10% discount offered to UniSA graduates. Corporate discounts also apply based on numbers, please contact us directly for a specific costing.
Contact us
For further information, contact Sandra Walker on (08) 8302 0801 or sandra.walker@unisa.edu.au