Industry based management degrees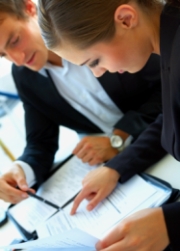 Organisations are constantly looking to improve performance, develop an edge on competitors, build capabilities and develop the leadership skills of staff. In the 21st century, the key to organisational success is in harnessing the skills, knowledge and energy of employees and supporting and encouraging them to strive for excellence.
Leadership and management development programs provide opportunities to learn and reflect on new knowledge and innovative approaches in organisational management and development.
Some of the tailored employer sponsored University degree programs offered to management and executive groups within an organisation include:
Graduate Diploma in Business Administration
Graduate Certificate in Business Administration
Master of Management
Graduate Certificate in Business
The Strategic Partnerships unit at the University of South Australia works as an education partner with a broad cross section of organisations to develop the skills, capabilities and performance of their people within the context of leadership and management development programs.
We can help your organisation develop customised Corporate Education programs that are flexible and relevant. These programs cover contemporary topics and often challenge thinking about important leadership and management issues facing your organisation. The programs are designed to:
Deliver leading edge knowledge integrated with practical application
Raise the level of skills and abilities of your staff and their understanding of your organisation
Enhance strategic management and leadership capacity
Promote teamwork, collaboration and lifelong learning
Achieve improved performance for your organisation through your people
A key element of Strategic Partnerships' success is its ability to meet industry needs by:
tailoring course content to be more industry-specific, by adding relevant readings, case studies and guest lecturers as well as customising assignments to application in specific industry/organisational needs;
delivering courses at organisation/industry nominated sites
including industry partners in a learning cohort
being flexible with the mode of delivery - which can include face-to-face, intensive or online, or a combination of the above to meet organisational needs, times and operational demands.
Strategic Partnerships prides itself on its rapid response, flexibility in regards to overall approach and personalising the relationship to ensure long term commitment, trust and referrals.
Teaching and Learning
Our approach to Corporate and Executive Education is to facilitate discussion amongst participants, relating theory to application. There is an expectation of a high degree of interaction and participation by students in a non-passive adult learning environment.
A considerable amount of learning comes from student peers as well as their lecturers. This occurs through the process of thinking and contributing to discussions either in class or online.
A normal class format may include a brief introduction lecture, followed by class exercises including presentations, role plays and facilitated discussion around topic material. Our online format includes questions with a response period, followed by online discussion with input from the lecturer.
Lecturers and facilitators
Many of our lecturers are drawn from senior positions in government and industry, relating real life experience with applicable management and leadership theory. For industry cohorts we also encourage guest speaker spots, where senior members of the participating organisations present on key issues or processes, which in turn can form the basis of further debate and discussion amongst course participants.
The University of South Australia offers a comprehensive range of undergraduate and postgraduate business and management programs, making it a leader in management education in Australia and the Asia-Pacific region
Other UniSA programs can be found here.
Contact us
For more information, contact Sandra Walker +61 8 8302 0801 Sandra.Walker@unisa.edu.au