Education programs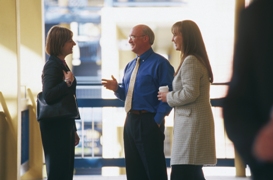 UniSA's Strategic Partnerships unit works in collaboration with large public and private sector organisations, industry and professional associations to develop and deliver in-house employer-sponsored leadership, management and business programs.
Tailored programs are linked to the achievement of University qualifications and are designed to meet the strategic goals of an organisation now and in the future.
The Strategic Partnerships unit has over 20 years' experience working with industry partners from a wide range of both public and private sector organisations. The unit acts as a project manager to firstly identify organisational needs then develop the program course content, and in turn manage the delivery by our industry experienced educational facilitators.
Our education programs can be delivered either in-house or off-site and in face-to-face or online modes. The choice of when, where and how is decided by our clients and industry partners to suit organisation specific work and business operation requirements.
Our programs
Learning approaches and materials for courses can reflect the characteristics of your organisation, industry sector or membership, while the accredited University curriculum defines the content. All courses are part of the University award structure.
These short courses can be delivered singly or as a workshop series which when packaged together can lead to entry into postgraduate degree programs.
A broad range of internationally acclaimed programs are offered to organisations as a means to achieving a sustainable lean transformation. This includes a suite of six sigma programs. Satisfactory completion of optional course assessment can provide credit in the MBA or Master of Management programs.