About us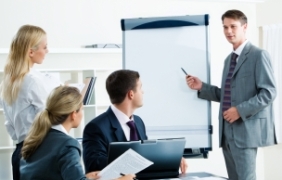 UniSA's Strategic Partnerships unit delivers corporate education programs for industry, government and commerce to support employee and organisational development.
Strategic Partnerships customises the delivery of UniSA education programs for companies, government organisations and industries wanting to undertake leadership, management and business studies as organisational or industry groups.
Strategic Partnerships works with organisations to identify and customise university programs to meet specific learning needs aligned with corporate objectives. The Strategic Partnerships unit achieves this by working in close partnership with the company or agency to develop courses and programs that deliver the required learning outcomes.
UniSA's Strategic Partnerships unit manages all the arrangements to ensure smooth delivery of the programs. For the organisation or industry, working as a group facilitates the development of dialogue around their key strategic issues in a non-threatening environment.
Established relationships between industry and UniSA results in programs that have direct application of management learning to workplace situations, which is specifically related to meeting corporate goals. Programs can build towards gaining a university accredited qualification, as well as programs that can be designed as standalone modules and undertaken outside the context of academic awards.
Organisations taking advantage of UniSA's educational curriculum to meet their organisational objectives will receive:
Formal qualifications needed for senior management advancement
A rigorous and up-to-date education program
Internationally recognised and accredited programs
Flexibility of learning methods and course delivery to suit organisational needs
Optional online course delivery
In house program delivery that provides participants with group learning and networking opportunities
Access to the university facilities and resources
Possibility of entry to post graduate studies without necessarily requiring undergraduate qualifications through recognition of participants' level of management experience
Involvement of senior managers for mentoring and feedback and linking theory to application.
Testimonial
'UniSA's decision to establish Strategic Partnerships was a stroke of visionary genius for it has enabled the university to substantially strengthen its links with the business and industry sectors. The ongoing dialogue and collaboration has enabled the university to develop a portfolio of programs and services that are much more relevant and customised to the needs and issues confronting industry.
It's no exaggeration to state that as a consequence of establishing Strategic Partnerships, there is a greater sense of shared responsibility and mutual commitment between the university and industry to the challenge of preparing the next generation for a satisfying and rewarding working life.' Dr Ross Bensley, Manager Organisation Development - SMR Automotive Australia.
Contact us
For further information, please contact Sandra Walker +61 8 8302 0801 Sandra.Walker@unisa.edu.au to find out how Strategic Partnerships can benefit your organisation.