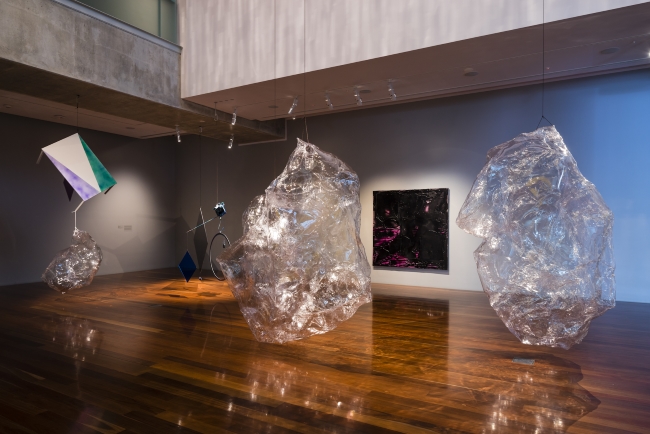 Samstag Archive
Over the years, as the number of Samstag alumni has grown, the Samstag Program has developed an archive of information that has become a popular resource for artists, educators and researchers. Available here to view or download, the archive includes visual information, catalogues and essays on the Samstag alumni, documentation of exhibition projects, and also diverse Samstag ephemera such as promotional posters.
From 2009, the Samstag Program curtailed production of the annual hard–copy catalogue and promotional poster and is instead placing greater emphasis on electronic, online forms of promotion, considered superior for their relatively unlimited reach and scope.
Catalogues

From 1993 until 2008, the Samstag Program published catalogues featuring a commissioned essay and profile of each of the Scholarship recipients in that year.

2008 | 2007 | 2006 | 2005 | 2004 | 2003 | 2002 | 2001 |
2000 | 1999 | 1998 | 1997 | 1996 | 1995 | 1994 | 1993
Essays
2008 | Louise Martin-Chew, Alternative Realities
2007 | Timothy Morrell, Loose connections
2006 | Wendy Walker, The memorable: ephemeral
2005 | Peter Timms, Art in an Age of Anxiety
2004 | Ken Bolton, New Brew: Export Quality Six-Pack
2003 | Stephanie Radok, The Point of Knowing
2002 | Russell Smith, Making The Makers
2001 | Robyn McKenzie, Art and Research
2000 | James Moss, The World is not Enough
1999 | M.A. Greenstein, Back to the Future - From Wry to Rave
1998 | Bruce James, Samstag '98: This Thing Called Art
1997 | Ross Wolfe, Elephant Poo
1996 | Ross Wolfe, Samstag's Class of '96
1995 | Ross Wolfe, Samstag's Class of '95
1994 | Ross Wolfe, Chaos in Heaven
1993 | Ross Wolfe, Samstag: The First Millenium
Promotional Posters
From the second year of the Samstag Program administration, in 1993, an annual promotional poster was produced to raise awareness among eligible Australian artists about the Samstag Scholarships opportunity.
The popular posters had a wide distribution to art schools, galleries and arts organisations, nationally and internationally. Most posters featured a work of art by a successful Samstag Scholar from the preceding year and many have become classics of their kind.

2008 | Simon Terrill
2007 | Paul Knight
2006 | Claire Healy & Sean Cordeiro
2005 | Edward Wright
2004 | TV Moore
2003 | Rebecca Ann Hobbs
2002 | Timothy Horn
2001 | Shaun Gladwell
2000 | Gordon Samstag
1999 | Matthew Warren
1998 | Shaun Kirby
1997 | Zhong Chen
1996 | John R. Neeson
1995 | Lucy Turner
1994 | Anne Ooms
1993 | Design by Gerry Wedd