Memorial Book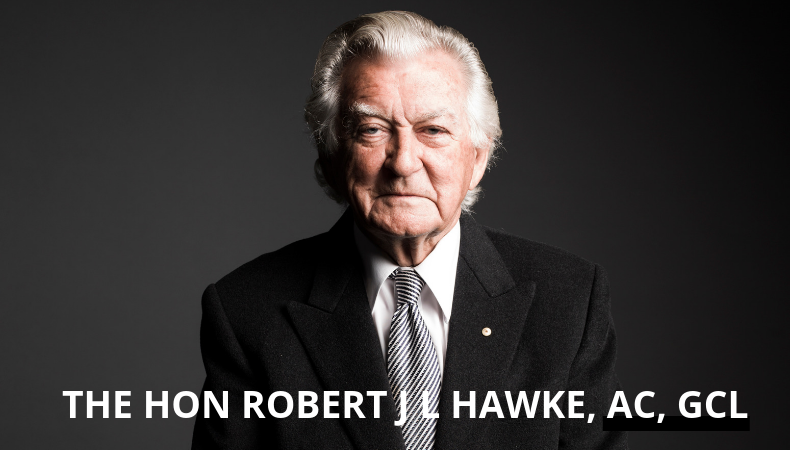 THE BOB HAWKE PRIME MINISTERIAL CENTRE'S
KERRY PACKER CIVIC GALLERY
Gallery open Monday - Friday 9am - 5pm (Thursdays until 7pm)
Kerry Packer Civic Gallery - Level 3, Hawke Building, UniSA City West campus, 55 North Terrace, Adelaide, MAP
Presented by The Bob Hawke Prime Ministerial Centre, University of South Australia
Full Obituary
Statement: Professor David G. Lloyd, Vice-Chancellor and President, UniSA
UniSA Press Release
Bob will be deservedly remembered among Australians, and indeed the Global community, not only as a politician of great talent and principle, but as a man who was passionate about: Community and Consensus, the Economy, Education, Environmental issues, Equality – and the promotion of an inclusive and diverse community, Global Initiatives, Social Justice and more.
A Memorial Book is now available for people to sign in the Hawke Centre's Kerry Packer Civic Gallery, UniSA City West Campus. Bob is sure to be remembered as a 'man of the people' - and I urge you all to share your special memories of him.
The Memorial Book will be available for signing over the next few months, giving the opportunity for members of the public and the University of South Australia's staff and students to record their personal tributes.
A copy will be sent to Mr Hawke's family as a token of esteem from the Hawke Centre, and from all those who have recorded their tributes.
For those unable to visit the Gallery, living interstate or overseas, please email the Hawke Centre with your message to be included in the Memorial Book.
Advancing Australia Fair - Bob Hawke and his Government 1983 – 1991 will also be exhibited in the Gallery, as well as materials and memorabilia relating to Mr Hawke's life and career. This exhibition tracks the paradigm shift in Australian values, policies and international relations pursued by Bob Hawke and his government.
Jacinta Thompson
Executive Director & Events and Exhibitions Producer
The Bob Hawke Prime Ministerial Centre
Image Credit: Randy Larcombe
While the views presented by speakers within The Bob Hawke Prime Ministerial Centre public program are their own and are not necessarily those of either the University of South Australia or The Bob Hawke Prime Ministerial Centre, they are presented in the interest of open debate and discussion in the community and reflect our themes of: Strengthening our Democracy - Valuing our Diversity - Building our Future.
The copying and reproduction of any transcripts within The Bob Hawke Prime Ministerial Centre public program is strictly forbidden without prior arrangements.