In light of the latest advice from the Australian Government and Australia's Chief Medical officer's, The Bob Hawke Prime Ministerial Centre and University of South Australia have made the decision to cancel our presentation with Jes Fan on Monday 16 March.
We hope to be able to provide a video of the lecture from Jes Fan at some point later in the year and we will let you know if this comes to fruition.
The safety of our attendees, speakers and staff is our chief priority, and we appreciate your understanding and patience in this challenging time.

Jacinta Thompson
Executive Director & Events and Exhibitions Producer
The Bob Hawke Prime Ministerial Centre, UniSA

Perspectives: shaping the world through visual culture
Presented by The Bob Hawke Prime Ministerial Centre, ACE Open and Guildhouse
Hear from some of the leading cultural minds of our time in
Perspectives
, an annual initiative, inviting artists, makers and cultural thinkers to reflect on some of the most compelling and current topics in contemporary culture.

Now in its second year, the partnership between The Bob Hawke Prime Ministerial Centre,
ACE Open
and
Guildhouse
invites some of the world's leading cultural minds to Adelaide to deliver a series of thought-provoking lectures across 2020.
The first talk of the program will be led by New York-based artist Jes Fan, with his lecture titled Leakages, Puddles, Discharge, Infections and Bubbles... Jes Fan's trans-disciplinary practice emerges from a sustained inquiry into the concept of otherness. Jes Fan is exhibiting in Australia for the first time as part of the 22nd Biennale of Sydney, 14 March - 8 June 2020. Under the artistic direction of acclaimed Indigenous Australian artist, Brook Andrew, NIRIN (edge), is an artist- and First Nations-led endeavour, presenting an expansive exhibition of contemporary art and events that connect local communities and global networks.

Seven themes inspire NIRIN: Dhaagun ('earth': sovereignty and working together); Bagaray-Bang ('healing'); Yirawy-Dhuray ('yam-connection': food); Gurray ('transformation'); Muriguwal Giiland ('different stories'); Ngawal-Guyungan ('powerful ideas': the power of objects); and Bila ('river': environment). Artistic Director Brook Andrew says, "The urgent states of our contemporary lives are laden with unresolved past anxieties and hidden layers of the supernatural. NIRIN is about to expose this, demonstrating that artists and creatives have the power to resolve, heal, dismember and imagine futures of transformation for re-setting the world. Sovereignty is at the centre of these actions. I hope that NIRIN gathers life forces of integrity to push through often impenetrable noise."
Jes Fan will discuss his body of work developed over the past few years and, in particular, his recent participation in NIRIN, the 22nd Biennale of Sydney (2020).
National Gallery of Victoria's recently appointed Curator of Indigenous Art, Hannah Presley (date to be confirmed) will give a talk reflecting on her practice which focuses on the development of creative projects with artists around Australia in remote communities and major cities, learning about the techniques, history and community that inform their making to help guide her curatorial process.
Curator, writer and Arts/Fashion academic Alison Kubler (Thursday 3 September) has worked extensively across Australia on projects in public art, publishing, curatorial and fashion and is currently Editor of Vault magazine. Alison will present an informed exploration on the intersections between contemporary visual art and fashion.
David Capra (Thursday 12 November) will conclude the 2020 series articulating how his work promotes joy and hope through performance and participation. David is a multidisciplinary artist who is perhaps best known for his work inspired by his muse, dachshund Teena. David and Teena have a long-standing history of creating socially engaged projects that make the world feel a little less lonely. Their work traverses hopes, loves and fears; from a room-sized zig-zagging sculpture of Teena dealing with her bath anxiety (Teena's Bathtime, Museum of Contemporary Art Australia, 2015) to a big floral Teena fashioned from people's messages of love and happiness (Puppy Love, Kaldor Public Art Projects, Art Gallery NSW, 2019).

JES FAN
LEAKAGES, PUDDLES, DISCHARGE, INFECTIONS AND BUBBLES...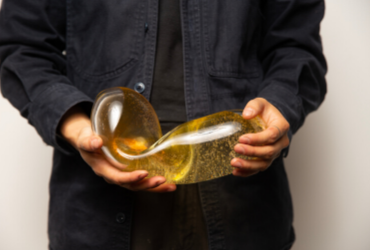 Speculating on the fraught intersection between biology and identity, Jes Fan's trans-disciplinary practice emerges from a sustained inquiry into the concept of otherness. Primarily working in the field of expanded sculpture, Fan navigates the slippery complexities of identity as guided by the tactile and material histories of his chosen media.
In Fan's work, he incorporates materials imbued with erotic and queer signifiers, such as silicone, soap and glass, as well as biological substances such as estrogen, testosterone and melanin.
JES FAN, ARTIST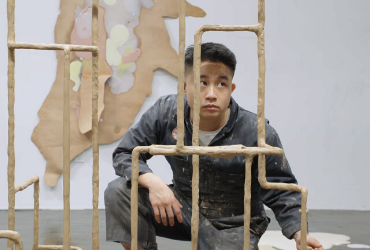 Jes Fan is a Brooklyn-based artist born in Canada and raised in Hong Kong. He is the recipient of various fellowships such as the Joan Mitchell Painters and Sculptors Grant, Jerome Hill Artist Fellowship, Van Lier Fellowship at Museum of Arts and Design and John A. Chironna Memorial Award at RISD.
Fan has exhibited internationally; selected exhibitions include Kiss My Genders at Hayward Gallery (London/UK), Mother is a Woman at Empty Gallery (Hong Kong), An Opera for Animals at Rockbund Museum (Shanghai/CN), In Search of Miss Ruthless, Para Site, (Hong Kong), Paradox: Haptic Body in the Age of AI at Carnegie Mellon University (Pittsburgh/US), and Disposed to Add at Vox Populi Gallery (Philadelphia/US).
Fan's work has been featured and reviewed by Artforum, Hyperallergic, Art21, AsiaArtPacific, BOMB, Frieze, and others. In 2020, Fan will be participating in the Biennale of Sydney and the Liverpool Biennale.

More Information
Website: Jes Fan
Selected Press
YouTube: Jes Fan In Flux, Art21 "New York Close Up"
Frieze Article The Miracle of Creation: Jes Fan and the Craft of Engineering Kinship

Image credits: Artwork, Jes Fan

HANNAH PRESLEY
CURATOR/CONFIDANT
DATE TO BE ADVISED
ALLAN SCOTT AUDITORIUM

Click HERE to register your interest to attend this event and to be notified when a date is advised.
Hawke Building - UniSA City West Campus, 55 North Terrace, Adelaide, MAP
Melbourne based Aboriginal curator Hannah Presley presents her inter/national curatorial approach that has guided her through working with individual artists, community groups, not-for-profit galleries, international art Biennales and national institutions. Presley shares her belief in the central role of transparency, vulnerability and humour in forming valuable relationships with artists, and will examine the deeper values that inform her practice. Known for exhibitions and projects that present meaningful connections between people and place, Presley will examine the deeper values that inform her work and demonstrate how thoughtful communication can be a powerful practice.
HANNAH PRESLEY, CURATOR OF INDIGENOUS ART
NATIONAL GALLERY OF VICTORIA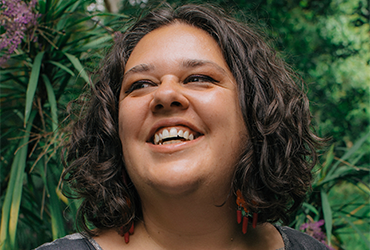 Hannah Presley is an Aboriginal curator based in Melbourne, she is currently curator of Indigenous art, National Gallery of Victoria. Presley was the inaugural Yalingwa curator at Australian Centre for Contemporary Art where she curated A Lightness of Spirit is the Measure of Happiness in 2018. In 2017, she was First Nations Assistant Curator for Tracey Moffatt at the 57th Venice Biennale, working alongside curator, Natalie King. Her practice focuses on the development of creative projects with Aboriginal artists, working closely with artists, learning about the techniques, history and community that inform their making to help guide her curatorial process.
Presley draws on inspiration from her early roles working at Warumpi Arts, with Papunya Community, Iltja Ntjarra, Many Hands and other Central Australian Art Centres. As Exhibitions Officer at Araluen Galleries, in Alice Springs, Presley had the privilege of coordinating a number of shows including the annual Desert Mob exhibition.
After attaining her Bachelor of Visual Arts, Photography, (LaTrobe), she completed a Curatorial Residency through Creative Victoria, curating the 2012 Victorian Indigenous Arts Awards. Presley has since worked in curatorial roles with the Koorie Heritage Trust, Footscray Community Arts Centre and Craft Victoria, also initiating and coordinating the Victorian Aboriginal Weaving Project across a number of years. Presley completed her Masters of Arts Management (RMIT), with distinction, in 2014.
Recent curatorial projects include Every Second Feels Like A Century, West Space, Melbourne (with Debbie Pryor); Weaving Country (with Vicki Couzens), Footscray Community Arts Centre, Melbourne (2017); Hero Worship, Craft, Melbourne (2016) (with Debbie Pryor). In 2016, Presley was awarded Best Emerging Curator at the Melbourne Fringe Festival

Image credits: Above: Artwork by Jes Fan, LEFT: Visisble Woman (2018), MIDDLE: Poke, Animacy Arrangement (2017), RIGHT: Diagram I





Presented by The Bob Hawke Prime Ministerial Centre, ACE Open, Guildhouse

While the views presented by speakers within The Bob Hawke Prime Ministerial Centre public program are their own and are not necessarily those of either the University of South Australia, or The Bob Hawke Prime Ministerial Centre, they are presented in the interest of open debate and discussion in the community and reflect our themes of:
Strengthening our Democracy - Valuing our Diversity - Building our Future
.
The copying and reproduction of any transcripts within The Bob Hawke Prime Ministerial Centre public program is strictly forbidden without prior arrangements.