Perspectives: shaping the world through visual culture
Presented by The Bob Hawke Prime Ministerial Centre, ACE Open and Guildhouse
Hear from some of the leading cultural minds of our time in
Perspectives
, an annual initiative, inviting artists, makers and cultural thinkers to reflect on some of the most compelling and current topics in contemporary culture.

Now in its second year, the partnership between The Bob Hawke Prime Ministerial Centre,
ACE Open
and
Guildhouse
invites some of the world's leading cultural minds to Adelaide to deliver a series of thought-provoking lectures across 2020.
The first talk of the program will be led by writer and Arts/Fashion academic Alison Kubler (Thursday 15 October). She has worked extensively across Australia on projects in public art, publishing, curatorial and fashion and is currently Editor of Vault magazine. Alison will present an informed exploration on the intersections between contemporary visual art and fashion.
David Capra (Thursday 12 November) will articulate how his work promotes joy and hope through performance and participation. David is a multidisciplinary artist who is perhaps best known for his work inspired by his muse, dachshund Teena. David and Teena have a long-standing history of creating socially engaged projects that make the world feel a little less lonely. Their work traverses hopes, loves and fears; from a room-sized zig-zagging sculpture of Teena dealing with her bath anxiety (Teena's Bathtime, Museum of Contemporary Art Australia, 2015) to a big floral Teena fashioned from people's messages of love and happiness (Puppy Love, Kaldor Public Art Projects, Art Gallery NSW, 2019).
Hosted as an online event (Date to be Advised), New York-based artist Jes Fan, presents a lecture titled Leakages, Puddles, Discharge, Infections and Bubbles... Jes Fan's trans-disciplinary practice emerges from a sustained inquiry into the concept of otherness. Jes Fan is exhibiting in Australia for the first time as part of the 22nd Biennale of Sydney, showcased in the Museum of Contemporary Art (MCA) until September 2020.
Hannah Presley will present as part of our Perspectives 2021 program.

ALISON KUBLER
ALLAN SCOTT AUDITORIUM, 15 OCTOBER, 6PM
Hawke Building - UniSA City West Campus, 55 North Terrace, Adelaide, MAP
Alison will present an informed exploration on the intersections between contemporary visual art and fashion.
ALISON KUBLER
CURATOR, WRITER AND ARTS/FASHION ACADEMIC
Alison Kubler has a double major in Art History from the University of Queensland, Australia, and a Masters in Post-war and Contemporary Art History from Manchester University, England.
Alison Kubler has over 20 years experience working as a curator in museums and galleries in Australia. She worked as Arts Adviser to the Federal Minister for the Arts and Sport, she has held full-time curatorial positions at QUT Art Museum and Gold Coast City Art Gallery, worked as Associate Curator, the University of Queensland Art Museum nd in a freelance capacity developed programs for Art Gallery of South Australia amongst other institutions. Alison is a Member of the Council of the National Gallery of Australia, and an Ambassador for the Institute of Modern Art. Alison is a regular contributor to art journals and magazines on the subjects of art and fashion. She is currently the Editor of VAULT.
In November 2013 a book she co-authored with Mitchell Oakley-Smith entitled Art and Fashion in the Twentieth Century was published by Thames and Hudson UK, and has subsequently been translated into German and Japanese. She has worked as curator on major public art commissions such as the refurbishment of the Brisbane International Airport and as curatorial advisor to Urban Art Projects on the public art for the major Queens Wharf Brisbane Redevelopment. She has been a regular external assessor for the Australia Council Visual Arts Board, and a sessional academic at QUT in the fashion studies department. Alison also sits on the Advisory Board of the Sherman Centre for Culture and Ideas (SCCI).
More Information
Instagram:@alikubie
Twitter: @AlisonKubler
Vault Magazine



JES FAN
LEAKAGES, PUDDLES, DISCHARGE, INFECTIONS AND BUBBLES...
ONLINE EVENT, DATE TO BE ADVISED
Speculating on the fraught intersection between biology and identity, Jes Fan's trans-disciplinary practice emerges from a sustained inquiry into the concept of otherness. Primarily working in the field of expanded sculpture, Fan navigates the slippery complexities of identity as guided by the tactile and material histories of his chosen media.between contemporary visual art and fashion.
In Fan's work, he incorporates materials imbued with erotic and queer signifiers, such as silicone, soap and glass, as well as biological substances such as estrogen, testosterone and melanin.
JES FAN, ARTIST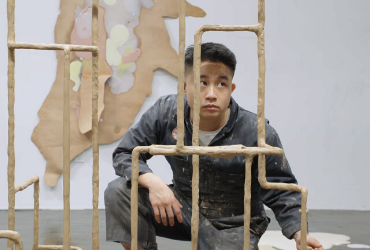 Jes Fan is a Brooklyn-based artist born in Canada and raised in Hong Kong. He is the recipient of various fellowships such as the Joan Mitchell Painters and Sculptors Grant, Jerome Hill Artist Fellowship, Van Lier Fellowship at Museum of Arts and Design and John A. Chironna Memorial Award at RISD.
Fan has exhibited internationally; selected exhibitions include Kiss My Genders at Hayward Gallery (London/UK), Mother is a Woman at Empty Gallery (Hong Kong), An Opera for Animals at Rockbund Museum (Shanghai/CN), In Search of Miss Ruthless, Para Site, (Hong Kong), Paradox: Haptic Body in the Age of AI at Carnegie Mellon University (Pittsburgh/US), and Disposed to Add at Vox Populi Gallery (Philadelphia/US).
Fan's work has been featured and reviewed by Artforum, Hyperallergic, Art21, AsiaArtPacific, BOMB, Frieze, and others. Fan's artworks are currently showing at the Museum of Contemporary Art (MCA), until September 2020.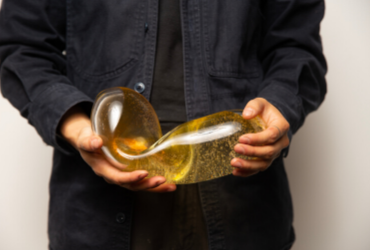 More Information
Website: Jes Fan
Selected Press
YouTube: Jes Fan In Flux, Art21 "New York Close Up"
Frieze Article The Miracle of Creation: Jes Fan and the Craft of Engineering Kinship

Image credits: Artwork, Jes Fan

Image credits: Above: Artwork by Jes Fan, LEFT: Visisble Woman (2018), MIDDLE: Poke, Animacy Arrangement (2017), RIGHT: Diagram I





Presented by The Bob Hawke Prime Ministerial Centre, ACE Open, Guildhouse

While the views presented by speakers within The Bob Hawke Prime Ministerial Centre public program are their own and are not necessarily those of either the University of South Australia, or The Bob Hawke Prime Ministerial Centre, they are presented in the interest of open debate and discussion in the community and reflect our themes of:
Strengthening our Democracy - Valuing our Diversity - Building our Future
.
The copying and reproduction of any transcripts within The Bob Hawke Prime Ministerial Centre public program is strictly forbidden without prior arrangements.