Adelaide Festival Centre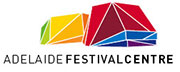 The new Asia Pacific Centre for Arts and Cultural Leadership will bring together the skills of the University and the Adelaide Festival Centre; two South Australian Institutions that are leading Australia in the arts and cultural sector and in engagement with the Asia-Pacific.
The Adelaide Festival Centre has an outstanding track record for delivering high quality performing arts and cultural events.
It was the first capital city multi-purpose arts complex built in Australia, opening three months before the Sydney Opera House in 1973. Today it is the only arts centre in Australia to produce and present four international festivals: Adelaide Cabaret Festival, Adelaide International Guitar Festival, the OzAsia Festival and the Come Out Youth Festival. It is also home to flagship arts organisations such as the State Theatre Company of South Australia, State Opera of South Australia, Adelaide Symphony Orchestra, Australian Dance Theatre, Leigh Warren & Dancers, Windmill Productions among others.
The Festival Centre is also acknowledged as a national hub for Asian/Australian cultural engagement, with a number of ongoing programs. The strong relationship with Asia is epitomised by the OzAsia Festival and the Hawke Fellowship, which supports young arts administrators from China to intern at the Adelaide Festival Centre.