IMAGES OF RESEARCH: PHOTOGRAPHY COMPETITION
Engaged Research, Enterprising Researchers
---
People's Choice Award - VOTING CLOSED
Click on the images below to find out more about our exciting research.
Living on the edge – supporting life with spiky micro-cones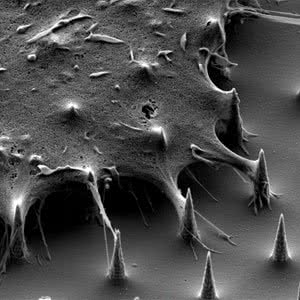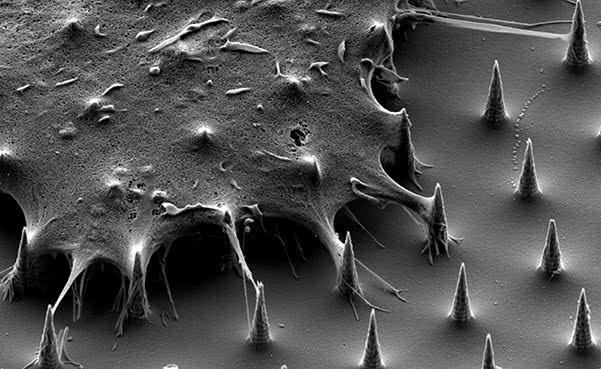 Finalist: Argha Chakraborty, PhD Candidate, Future Industries Institute
Image Title: Living on the edge – supporting life with spiky micro-cones
This image demonstrates how an immune cell (macrophage) colony behave when they encounter a surface with well-defined topography. These spiky micro-cones were designed and developed for almost a year and a half to improve the level of biomaterial implant interaction with cells and tissues. The behaviour of the macrophage recorded in the scanning electron microscope (SEM) image displays macrophage filopodia reaching out and gripping surrounding micro-cone posts, either for tethering on one particular area or for migrating to the next suitable area.
Intergenerational instruction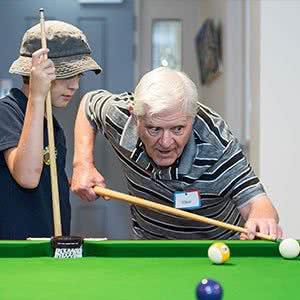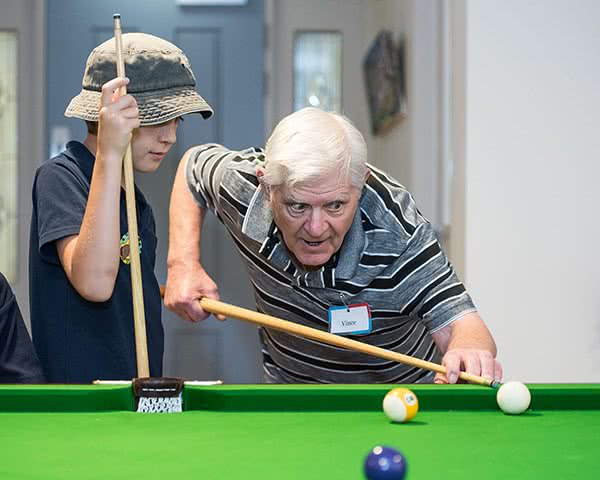 Finalist: Dr Ashleigh Smith, Senior Research Fellow, School of Health Sciences
Image Title: Intergenerational instruction
This image demonstrates how children and older adults interact through the Forget Me Not program, an 8-week intergenerational program co-designed with UniSA, Unley City Council, Unley Primary School and the ECH group, which is aimed at developing the next generation of age-friendly communities through education, awareness and empathy.
Where are the Women?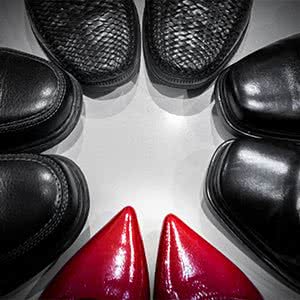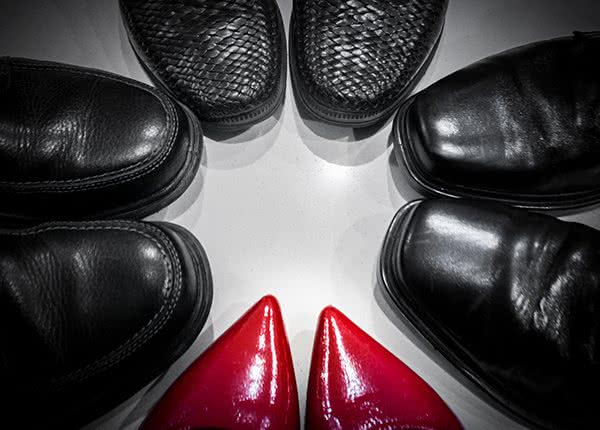 Finalist: Professor Carol Tilt, Professor in Financial Accounting, School of Commerce
Image Title: Where are the Women?
Less than a quarter of corporate board members are female, as represented by this photograph. Research by Professor Carol Tilt and Dr Kathy Rao considers the value that women bring to Boards in terms of their Corporate Social Responsibility (CSR) agenda, in particular, how ASX companies report on CSR issues and whether having female directors helps to improve reporting and transparency on how firms impact society and the environment. However, the main challenge in undertaking this work is the limited access to data due to such low numbers of female directors.
The Virtual Actor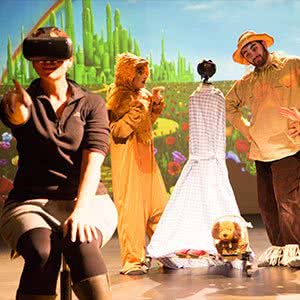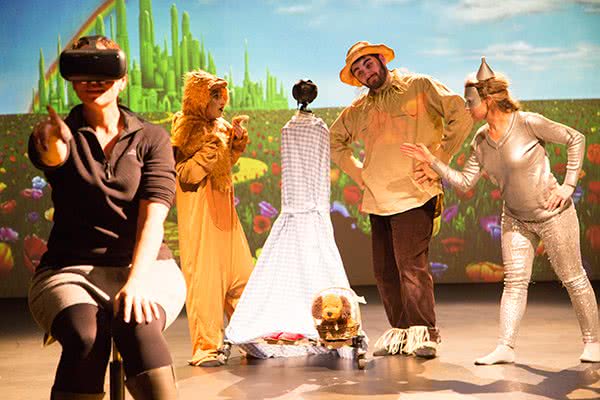 Finalist: Dr Corinna Di Niro, Academic Researcher and Lecturer, School of Creative Industries
Image Title: The Virtual Actor
Is there more to being an audience member than just sitting in the dark? Yes, audiences play an integral role in live theatre, but how can you shift an audience member from "viewer" to "player", where they could interact with actors on stage by taking on a leading role? This image shows actors in a scene from The Wizard of Oz, with the Virtual Actor in the role of Dorothy through technology. By using the notion of fusing both Virtual Reality and Live Theatre's immersive understanding of 'suspension of disbelief' the Virtual Actor project was born.
You can't hide from today's challenges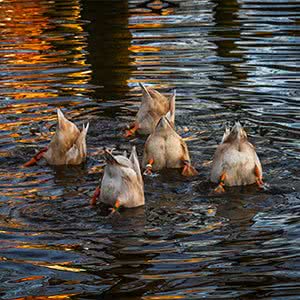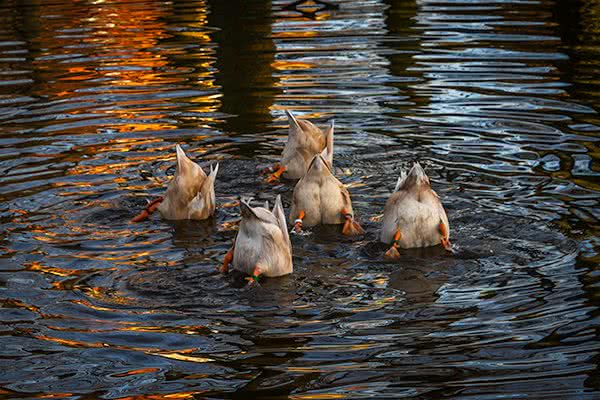 Finalist: Dainis Zakis, Student, Bachelor of Contemporary Art
Image Title: You can't hide from today's challenges
Taken on a winters day in Stockholm, this image represents that whatever we do today whether its art or science we cannot hide from challenges. In the world of art you must embrace the new technologies and test their limits because you never know what you might discover. If you are to be like these ducks, you will never progress.
Clotted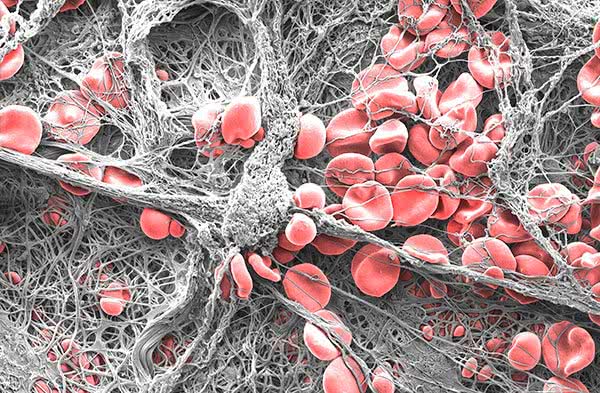 Finalist: Eli Moore, Research Fellow, Centre for Cancer Biology, Health Sciences
Image Title: Keep calm and carry on, amidst the hurricane of crystals
This image reveals the microscopic landscape of a blood clot caused by a medical device designed to treat aspects of cardiovascular disease. The current generation of stents and other implantable vascular devices are prone to adverse events occurring once in contact with blood. This is due to the incompatibility of the materials used. Eli's research has developed a thin coating for these devices that prevents clotting.
Gold nano-guts served on a micro-silica plate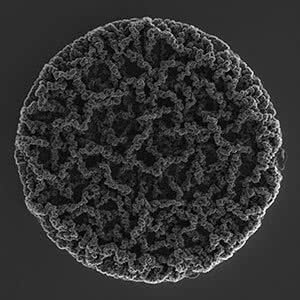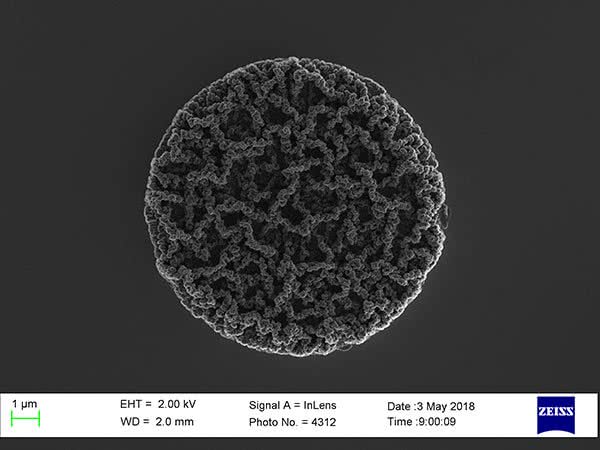 Finalist: Dr Eva Alvarez de Eulate, Research Fellow, Future Industries Institute
Image Title: Gold nano-guts served on a micro-silica plate
These gold nanostructures, which look like intestine, were created from gold nanoparticles using photolithography and argon plasma on a silicon substrate. They are one of the surface nanotopography under investigation in our New Adventure Fund project where we aim to create nanotextures resembling those of natural rocks inside artificial microfluidic channels. These channels will be used to model imbibition phenomena occurring in rock deposit during hydraulic fracturing processes to assist with the improvement in oil recovery rates.
Hairy worms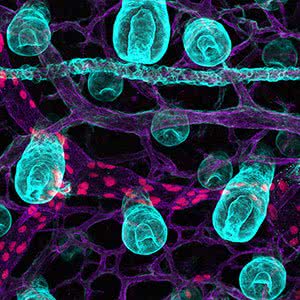 Finalist: Dr Genevieve Secker, Research Fellow, Centre for Cancer Biology
Image Title: Hairy worms
This is an image of skin development in a mouse embryo where the purple staining is highlighting blood the pink/purple staining are the lymphatic vessels. Surrounding these vessels are evolving hair follicles (cyan staining) which facilitate the growth of new hair within the skin and provide a specialised microenvironment for the growth of skin stem cells. The network of blood vessels transports oxygen and nutrients around the body, whereas the lymphatic vessels act to draw excess fluid from the surrounding tissue and facilitate the transport of immune cells around the body.
Invisibly distinct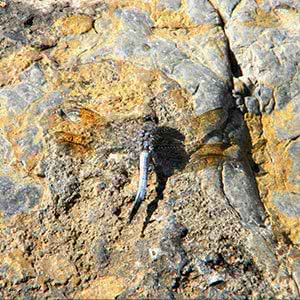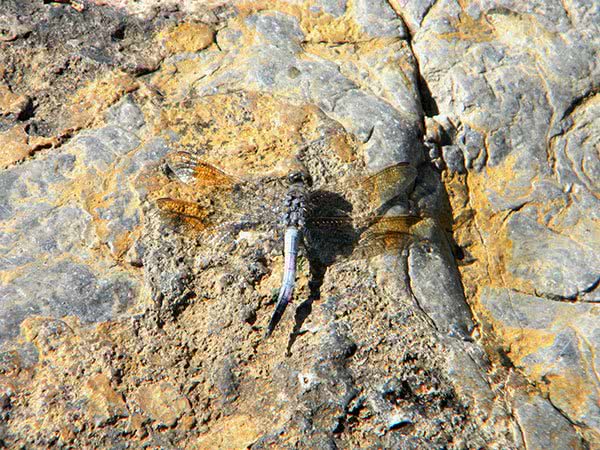 Finalist: Genine Meredith, PhD Candidate, School of Natural and Built Environment
Image Title: Invisibly distinct
Geospatial technologies have infiltrated almost every aspect of our lives, making decisions easier, business more efficient, and movements traceable. Much like a failure to observe what is right in front of us and potentially crush a very delicate species, a deficient level of geospatial literacy could result in the inability to elicit valuable and potentially decisive information. Aligned with my research to evaluate how geospatially literate students are as they transition to tertiary study, this image shows the dragonfly sits distinct and separate while wearing an invisibility cloak to blend in with the underlying rock, just as geospatial information sits distinct and separate, yet masked in the interconnected mass of data.
A journey into Australia's tumultuous geological past, and into a groovy future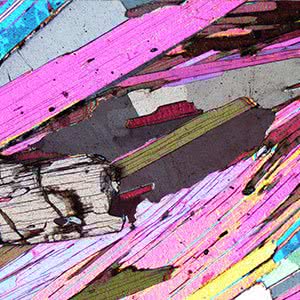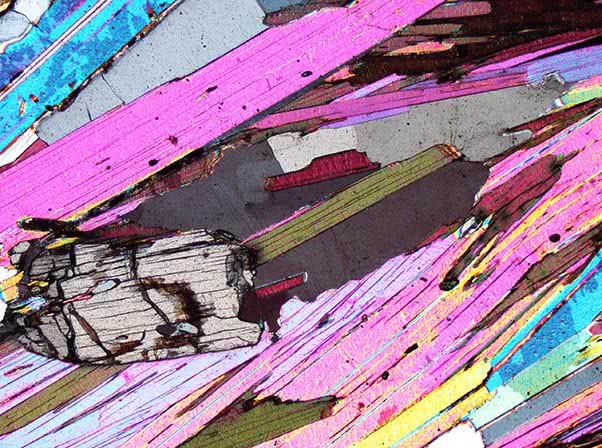 Finalist: Jan Varga, PhD Candidate, School of Natural and Built Environments
Image Title: A journey into Australia's tumultuous geological past, and into a groovy future
See that cracked, brown, slightly oblique and high-relief grain near the bottom left? That is the mineral kyanite, and it tells an important story related to the conditions at which this rock formed through time. Kyanite forms at high pressures, much like diamond. Because it can be directly observed that it is aligned to those groovy pink, purple and blue minerals (muscovite and biotite, materials that are still used in makeup today, for instance, the sparkle in foundation) it can be interpreted that kyanite formed in a dynamic and high pressure environment that squished this rock during mountain building. This rock has been dated to be 1.78 billion years old and experienced high temperatures and pressures c. 380 million years ago forming the Alice Springs mountain belt. These types of events still happen today, for instance throughout China, India, Morocco and South America, however, because we can't access their interior, central Australia is our best opportunity to understanding the past and future of such processes, improving our understanding of natural hazards, ore genesis (commodities), geochemical cycles, and tectonic-climate coupling.
Dream of A Pest Free Export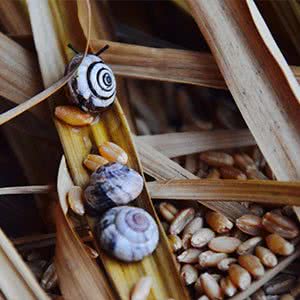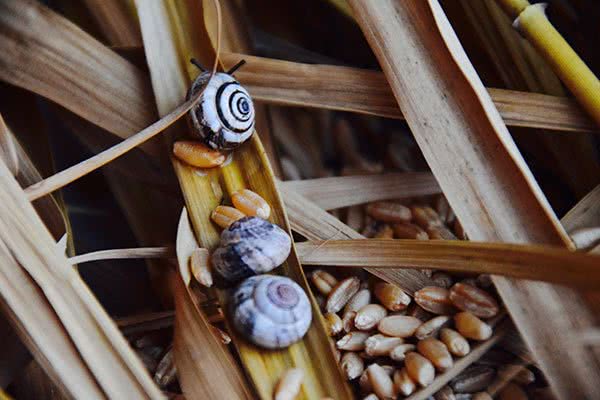 Finalist:
Dr Maryam Shirmohammadi, Research Fellow, School of Engineering
Dr Solmaz Saboohi, Research Associate, Future Industries Institute
Image Title: Dream of A Pest Free Export
Snails are a great threat to grain harvests by destroying the crop and damaging the roots and stems. The little creatures in this image could become a big issue to our export market where countries such as China have already placed bans on some exporters. Dr Shirmohammadi and her colleague Dr Saboohi are working on a project that takes current technology that is applied in the life science space and explores possible solutions that can be applied to the current outbreak of snails in the grain industry. The point of difference in this approach will be energy efficiency, low cost and the emphasis on maintaining the crop quality, with results demonstrating that this method has been effective on products with heat sensitivity while leaving zero chemical residue.
A Butterfly in Microchannel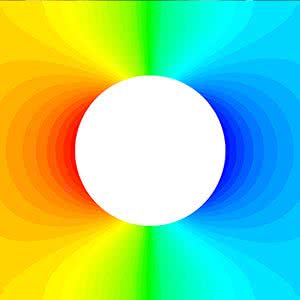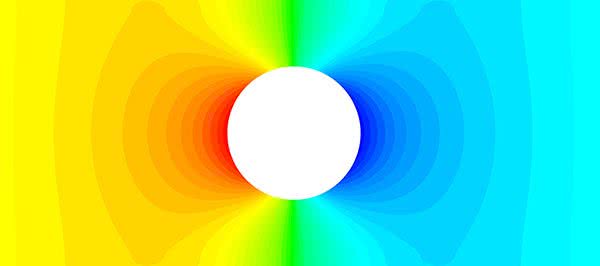 Finalist: Dr Moein Kashani, Microfabrication Simulations Technologist, Future Industries Institute
Image Title: A Butterfly in Microchannel
At the first glance, you may say that the image is a butterfly. But the reality is another story! A confined liquid flow in a small space behaves differently from a bulk liquid flow. When liquid is being squeezed inside a tiny channel, the size of a micrometre and the channel itself is filled with some spherical pillars, it performs like no other liquid in bulk flow. While a stationary liquid zone (shown with blue) has been formed and trapped behind the spherical black pillars, the velocity just in the vicinity of this dead zone is near twenty times more (shown with red). To get a better insight of conditions in such a small dimension, it is instructive to take a closer look on the significance of the velocity magnitude in different positions in this microchannel, and how the velocity in the adjacent layers of a fluid depends on the gap size between the pillars. This photo is an outcome of a simulation study to quantify and get a better understanding of the velocity field in such a system and hence the design capacity of microfluidic systems.
Umbilical cord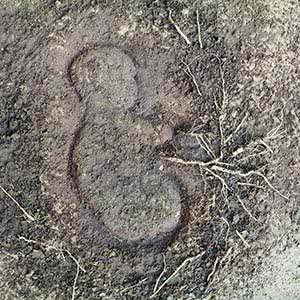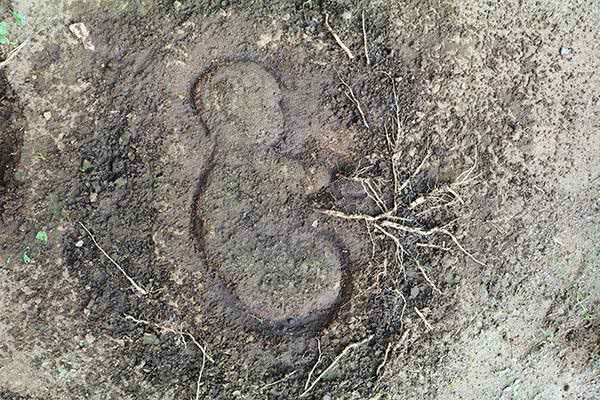 Finalist: Nadeem Nazar, Student, International Master of Business Administration
Image Title: Umbilical cord
This photograph is an artistic representation of feticide, showing a baby in the womb with an umbilical cord. Big trees remain as they are only because of their strong roots, in the same way, a healthy future is built. Without healthy children, there will be no healthy future.
Perpetual Barriers to Digital Era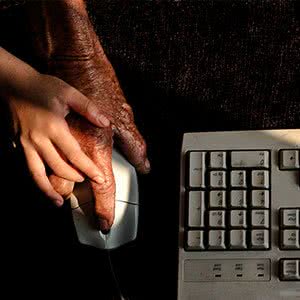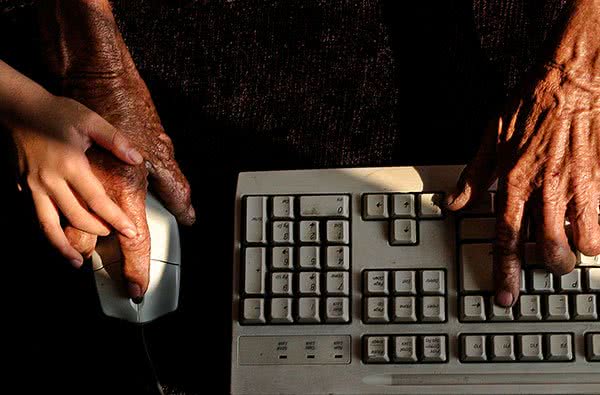 Finalist: Nam Truong, PhD Candidate, School of Information Technology and Mathematical Sciences
Image Title: Perpetual Barriers to Digital Era
This picture has my little sister showing my grandfather how to find his favourite soap opera on Youtube. I believe that even if we are growing older, we may become outdated, however younger generations will always be there to show us and help us through for a better future.
What you looking at?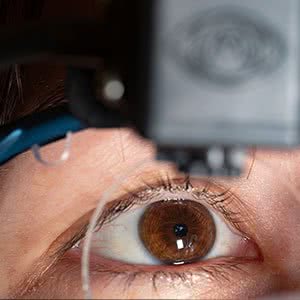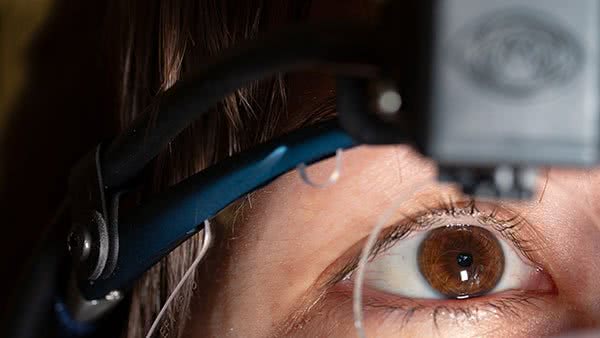 Finalist: Dr Robert Crowther, Senior Lecturer in Human Movement, School of Health Sciences
Image Title: What you looking at?
This photo is a close-up of the eye and the eye tracker, which is worn like glasses. The eye tracker is used to measure eye position and movement, in relation to the visual space in front of the subject. This information is used to determine visual and attentional demands in many research areas such as psychology, marketing and exercise/sport science. During sporting tasks, a 'better' athlete can obtain visual information (patterns of movements and/or locations) and produce the 'correct' response. Current research is investigating the effects of visual distraction by a defender on eye movement during the field goal/basketball shot performance and the impact of aging and clinical conditions such as Parkinson's disease, on visual perception.
Ripple effects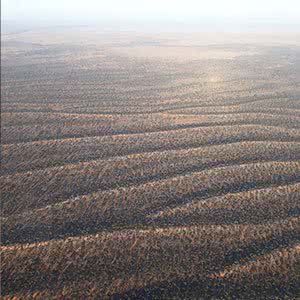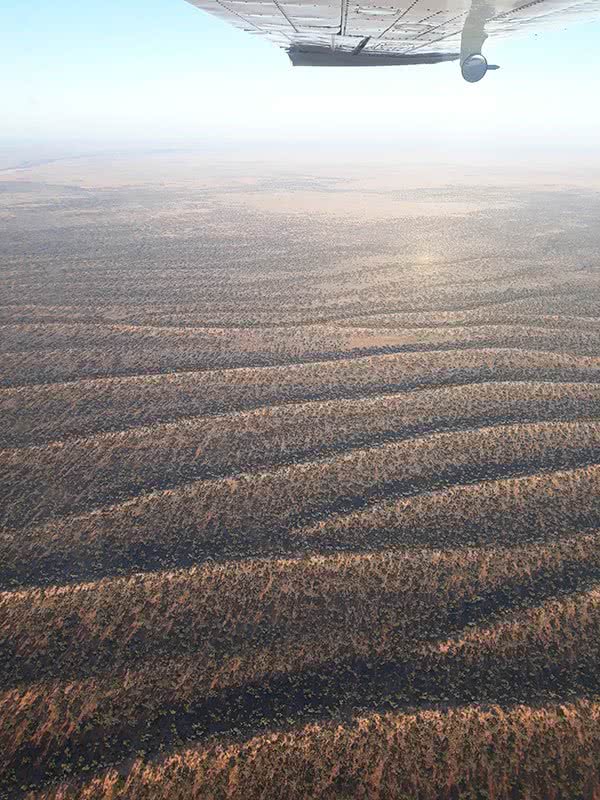 Finalist: Dr Skye Akbar, Research Fellow, School of Management
Image Title: Ripple effects
This image was taken flying into Oak Valley in South Australia, where Skye travelled to investigate the economic and nutritional effects of government policy. The landscape appears to show a ripple effect, prompting the question 'how do Government decisions ripple through the outback'?
"Gabingidyal" (Beginning)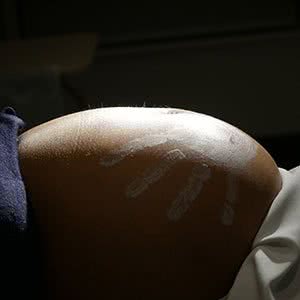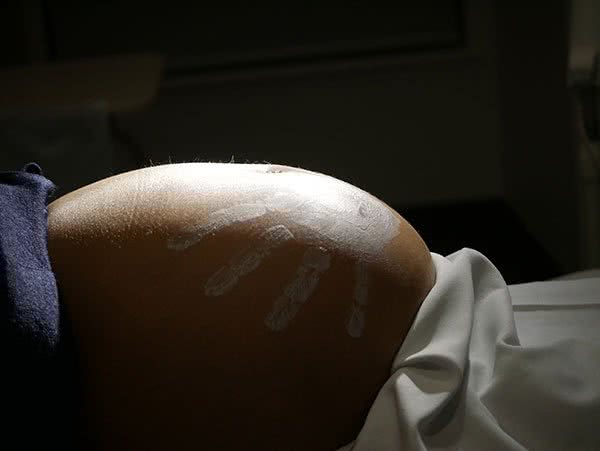 Finalist: Skye Jordan, Student, Graduate Diploma in Aboriginal Studies
Image Title: "Gabingidyal" (Beginning)
Women living in rural and remote Australia are placed at a disadvantage during the perinatal period due to the closure of many rural birthing units. Women are often expected to drive hundreds of kilometres to give birth in regional centres without the support of their loved ones leaving them feeling isolated, at a higher risk of birth intervention and at a financial disadvantage. Considerations that affect women living in isolated locations include the lack of appropriate care models, a reduced number of medical practitioners and midwives, the cost associated with accessing birthing units, and cultural determinants including language barriers and the disregard for traditional laws such as Grandmother's law, birthing on country and women's business. The effect from these lack of services and considerations aids in the demise of Indigenous culture and often brings shame upon the mother and her family, with many people in rural communities feeling that birthing on country should be made a minimum standard for health services across Australia for low-risk women.
The wheels of time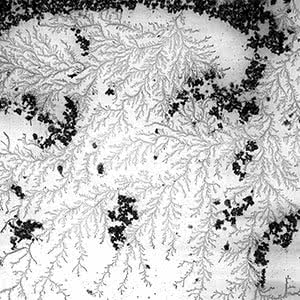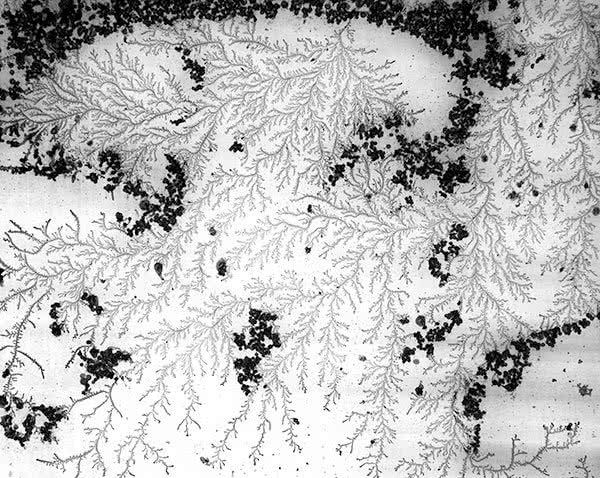 Finalist: Dr Thomas Michl, Research Fellow, School of Engineering
Image Title: The wheels of time
The research and technology developed by Dr Michl and his colleagues aim to replace the discomforting and tedious cystoscopy procedure for routine bladder cancer screening. For this purpose, a patient's sample of urine is flushed through a uniquely developed sensor and due to its special surface properties, if present, bladder cancer cells are selectively retained and are then imaged using a specialised microscope; giving an accurate diagnosis. This image is taken from an unused test sensors, filled with a buffer solution which accidentally happens to dry out over time. As the salt crystallised, it created this intricate web of structures.