Top Australian scientist to lead research at UniSA
August 07 2014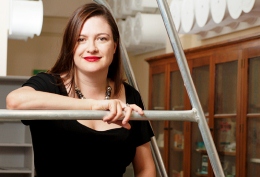 One of Australia's most decorated scientists and former SA, Australian of the Year; physicist, Professor Tanya Monro has been appointed as the Deputy Vice Chancellor Research and Innovation at the University of South Australia.
Professor Monro will join UniSA in November, from her current role as Director of the ARC Centre of Excellence in Nanoscale BioPhotonics and of the Institute for Photonics and Advanced Sensing at the University of Adelaide.
She holds an Australian Research Council Georgina Sweet Laureate Fellowship and is the author of more than 500 journal and research articles.
Announcing Professor Monro's appointment, Vice Chancellor Professor David Lloyd says he is delighted to welcome a scientist and leader of her standing to UniSA.
"Tanya is one of Australia's most highly recognised scientists and a model of the drive and vigour that characterises the next generation of Australian research," Prof Lloyd says.
"The quality of her work is internationally recognised and her proven capacity to work with industry and to form partnerships and collaborations to bring forward new knowledge and solutions will be an asset to our institution as we build Australia's university of enterprise."
Prof Monro earned her PhD in physics in 1998 from The University of Sydney, for which she was awarded the Bragg Gold Medal for the best Physics PhD in Australia.
In 2000, she received a Royal Society University Research Fellowship at the Optoelectronics Research Centre at the University of Southampton in the UK. .
Returning to Australia almost 10 years ago she has forged a successful and influential career.
She is a Fellow of the Australian Academy of Science and the Australian Academy of Technological Science and Engineering, a member of the South Australian Premier's Science and Industry Council, a former South Australian Scientist of the Year, and winner of the Telstra Business Women of the Year award among a number of high profile honours and academic achievements.
In 2012 Prof Monro won the Pawsey Medal for outstanding research in physics, awarded to researchers under the age of 40, for her work in optical physics which has led to the development of new forms of optical fibres for use in telecommunications, biology, health, food and wine production and the environmental monitoring and defence industries.
Prof Monro says she is excited by this important opportunity to drive strategies for success in research across the University of South Australia.
"UniSA clearly prioritises research focussed on economic outcomes and supporting the needs of industry, and this aligns well with my passion for research that makes a difference," Prof Monro says.
"I understand the ingredients required to create and nurture excellence in research and I really look forward to working with researchers at UniSA to strengthen the university's capacity to deliver high quality research outcomes for the benefit of the community and the local and national economies."
Professor Monro is extremely active at the interface between private industry and academic research and has commercialised output from her own research area through a spin-out company. Additionally Professor Monro is a member of the South Australian Economic Development Board (EDB) and chair of the Science, Innovation and Commercialisation subcommittee of the EDB.
"My vision is to build on and extend the University's research strengths so we can create a distinctive offering that will increase our capacity to attract a diverse range of high calibre students and seed job creation in South Australia."
Media contact: Michèle Nardelli office: 08 8302 0966 mobile: 0418 823 673 email: Michele.nardelli@unisa.edu.au