2019 Australasian Housing Researchers' Conference
The AHURI Research Centre at the University of South Australia recently co-hosted the 2019 Australasian Housing Researchers' Conference with the University of Adelaide. Over three days we heard from a diverse group of researchers including plenary speakers Professor Sarah Johnsen, Professor Gavin Wood, Professor David Clapham and Professor Geoff Meen as well as presentations from local, interstate and international delegates on topics varying from homelessness research to new models of tenure and consumption to population ageing and housing. Some particular highlights of the conference were a panel of early career researchers chaired by Dr Hazel Easthope who discussed their visions for the future of housing research to 2040, the social, collegial atmosphere that existed throughout the conference, and the high calibre of the researcher presentations across the board.It was an honour to co-host the event with the University of Adelaide and we look forward to joining the next AHRC in 2020. Please feel free to send any feedback to our administrative email.
2019 AHURI Top-up Scholars Symposium in Adelaide
Prior to the start of the 2019 AHRC, AHURI held its annual Top-up Scholars Symposium. Our centre director, Associate Professor Christine Garnaut, attended the symposium along with UniSA's AHURI Top-up Scholars, Jess Porter, Christa Viljoen and Laura Hodgson.
'As an AHURI scholar, I had the opportunity to attend the 2019 AHURI Research Symposium together with 22 fellow PhD candidates on Monday and Tuesday, 4-5 February.
Each of us had the opportunity to present our research, getting feedback and ideas from peers and senior academics. To me, there were many highlights during the two days. This included meeting with students who are also doing research on housing, but with many different focus areas. I met architects; planners; and finance professionals all working within the housing space but with very different backgrounds. As we are all in different phases of our candidature, it was possible to provide feedback but also to get advice from candidates who are close to completion. I had the opportunity to network but more importantly to make new friends. When I travel to Melbourne in March, two of the participants have already offered me a desk to work from at RMIT.
The major highlight was however, the ability to meet Prof David Clapham from the University of Glasgow, and to attend a session run by him and to get feedback from him about my study. I would like to thank AHURI and UniSA for this wonderful opportunity.'
Christa Viljoen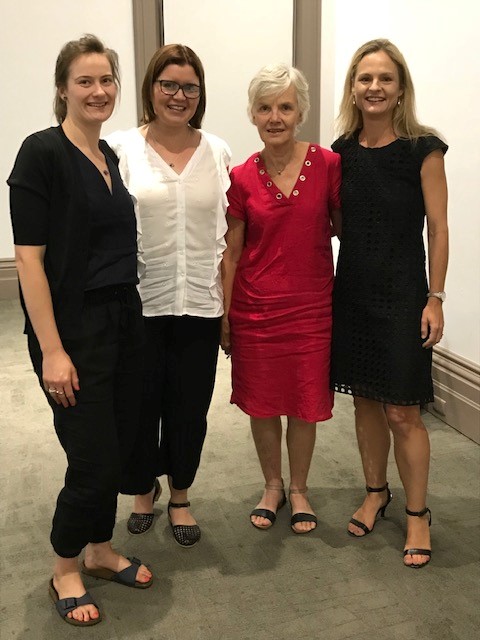 From left: Laura Hodgson, Jess Porter, Christine Garnaut, Christa Viljoen
Administrative news
We are both sad and proud to announce that our centre's administrative and project officer, Dr Kyra Wood, will be leaving the AHURI Research Centre at UniSA in mid February 2019, to take up a position as a Post-doctoral Fellow in timber design and construction at the Centre for Sustainable Architecture with Wood, in the University of Tasmania. We would like to thank Kyra for her contribution to our research centre in its formative years and look forward to seeing where this new trajectory will take her.
2018 End of Year News Bulletin and successful NHRP funding announcements
We are delighted to congratulate Associate Professor Deirdre Tedmanson and her research team on their successful application for funding in AHURI's NHRP 2019 agenda. For further details about this and other successful applications that involve researchers from the University of South Australia, please follow the link to our end of year news bulletin below.
View News Bulletin December 2018 (PDF 214Kb)