FIDERH Mexico

Welcome
The University of South Australia welcomes students supported by loans from FIDERH (Fund for Development of Human Resources), a federal trust managed by the Central Bank of Mexico.
Why Choose UniSA?
We are ranked 26th worldwide in the QS Top 50 under 50 2018
97% of our research is at or above World Class, Excellence in Research Australia, 2015
Top 150 in the world in Architecture/Built Environment, QS Subject Rankings 2018
Top 150 in the world for Education, QS Subject Rankings 2018
UniSA Business School ranked in the top 1% Worldwide. UniSA Business School is one of nine institutions in the country and 176 globally to be accredited by EQUIS. There are a total pool of 16,521 business schools worldwide, AACSB, May 2017.
UniSA is ranked in the top 100 in the world in the QS subject areas of:
Art and Design
Nursing - ranked number 50
We offer coursework programs and Research programs related to many of the FIDERH priority areas including:
Testimonials
We currently host a number of Latin American students. Find out more below from some of them and you can also hear more from other international students.
Camila Silva

Master in Urban and Regional Planning (IMUB)

"What I enjoy most about UniSA is the flexibility of being able to choose from different elective courses that have different approaches to the program and adds to what you are focused on.

The teaching staff are great, most are very well renowned in their field and they make lectures interesting by also inviting other people to give lectures so we as students have another perspective on how to approach and solve issues. Most of the professors are very flexible and have an "open door" when it comes to enquiries form the students in case we need it.

The Student Engagement Unit, not only gives you advice on how to write an essay, or your resume, but also they have counselling, so if you feel home-sick or are not sure if the degree you chose is the one you really want, you can always make an appointment and seek help. They are very professional and will help you."

Alejandro Ibarra Valenzuela

Master of Engineering (Civil)

"When I came to Australia I saw that everything was as good as I'd heard, so I'm really happy to be here." When asked what Alejandro liked most about his degree, he said "Getting to know good people, a lot from other countries, good teaching and very good staff. My teachers know a lot in their teaching areas."

Coming from overseas, Alejandro says UniSA made transitioning to a new country easier by helping him adjust to life in Australia.

"Everything is very different from Mexico so all was new for me, from the food and looking for places to live, and the lifestyle is pretty relaxed. UniSA host really good activities for international students, from the visit to the central market, to wild life parks and victor harbour, it helped me a lot in learning about Australian life"

Alejandro says his degree focuses on "the structures of buildings, design capabilities and strength of various forms of construction". When he finishes his study he plans to go back to Mexico and apply the knowledge he has gained at UniSA.

Juan Carlos Mariscal Gomez

Executive Certificate in Space Studies

"Working with students and professionals from all over the world is really great. The lecturers and staff were awesome and the facilities exceeded my expectations."
Hear about UniSA from one of our experts in sustainable urbanisation and construction management Dr Jorge Ochoa Paniagua: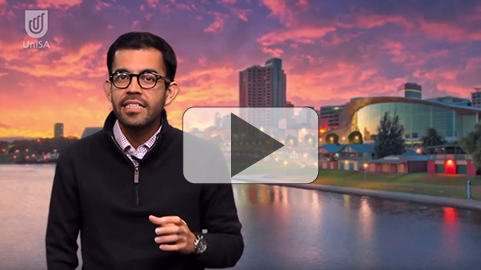 How to Apply
Masters by Coursework - Follow our four steps on How to Apply for Masters by Coursework. You can search our programs here.
Research - Follow our six step guide on How to Apply for Research at UniSA. For a full list of our Research programs by research area please visit What you can study. For eligibility and other details please visit the FIDERH website.
Our four leading research institutes are Future Industries Institute, Ehrenberg Bass Institute, Sansom Institute for Health Research, Centre for Cancer Biology.
As an international applicant it is your responsibility to be aware of any visa and other immigration requirements.
Life in Adelaide
Adelaide is South Australia's vibrant capital city and one of the most affordable Australian cities. Visit the Study Adelaide website to hear more about why so many students choose to live here.
Rated as one of the Top 5 most liveable cities – 5 years in a row (2016 Economist Intelligence Unit), Adelaide is a multicultural city with a vast choice of foods to cook at home as well as restaurants to enjoy. Adelaide is renowned for its affordability and quality of life. It is 19% less expensive than living in Sydney or Melbourne. This means you'll be able to save more money to experience all the exciting opportunities that Adelaide has to offer.
If you are bringing dependent children between the ages of 5 and 17, you may be eligible for a fee waiver at South Australian government schools.
Before you leave home
We provide pre –departure resources online to help you prepare for your journey to Australia and we can also meet with you in country when our staff are in Mexico.
We'll support you
Our dedicated International Sponsors team will provide special assistance and advice to our recognised sponsored students and sponsoring authorities. For more information on these services please visit Information for Sponsors or Sponsored Students . We also have a team of International Student Advisors on each campus who can assist you with academic or personal issues as well as providing Research Student resources including a dedicated Orientation program, workshops and online help.
Contact us
Email: international.sponsors@unisa.edu.au
Phone: 08 8302 0114
Check our calendar to see if we are visiting Mexico: unisa.edu.au/Calendar/
Stay connected after you graduate
Become part of a global network with more than 180,000 alumni worldwide. From international chapters to a range of exclusive alumni benefits, find out how to stay in touch well beyond your graduation.