Contact IELTS
Brookman Building
UniSA City East Campus
North Terrace
Adelaide
SA 5000
Office hours: 8.30am to 4.30pm Monday to Friday
Tel: (08) 8302 1591
Email: ielts.info@unisa.edu.au
Fast and friendly customer service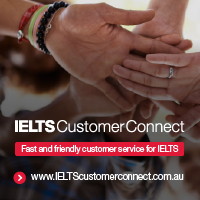 Send any IELTS question to us and
our experts will respond
IELTS Testing Centre
Welcome to the Centre for English Language University of South Australia (CELUSA), the paper-based IELTS Test Centre for South Australia

Why choose CELUSA?
Speaking Test on the same day
Personal collection of Test Report Form
Free results SMS on release day
Free water refill
Test Centre status for over 20 years
Familiar paper-based test
Candidate-approved relaxed and friendly test day environment
City centre location
Book online now
CELUSA IELTS candidates can apply online for a test instead of coming to the test centre. You'll need a scanned copy of your passport information page plus a credit card to complete the application. Click on the link below to get started.
Next available IELTS testing dates:
We can accept online applications up to Thursday 3 January if places are available
We can accept online applications up to Thursday 3 January if places are available
Want your result "early"?
Don't want to wait for your result to arrive in the mail? CELUSA IELTS candidates have the opportunity on test day to request:
collecting Test Report Forms in person from the centre on the release day, instead of waiting for the mail
receiving results by SMS before 10.00am on the Friday morning of the release day

2018 & 2019 Test Dates
The schedules for 2018 and 2019 are available to view in IELTS Dates and Fees

IELTS Success: a test preparation workshop
CELUSA runs a monthly test preparation workshop called IELTS Success. An intensive one-day workshop, it is designed to give candidates the advice, tips and strategies to get those extra few marks on a test day and achieve the band score they need.
With an experienced teacher and high demand, places are limited per workshop, so don't miss out.
For 2019 workshop dates: click here for more information and how to apply
What is IELTS?
IELTS stands for International English Language Testing System and the test was taken by over 2.9 million candidates in the past 12 months. IELTS is available in more than 135 countries and IELTS results are accepted by more than 10,000 organisations and institutions worldwide. This makes IELTS the world's most popular high-stakes test, accepted for entry to education, employment and migration. IELTS is jointly owned by British Council, IDP: IELTS Australia and Cambridge English Language Assessment.
IELTS tests all four language skills - Listening, Reading, Writing and Speaking - and is available in two test versions:
Academic
General Training
All candidates take the same Listening and Speaking tests but the Academic and General versions have different Reading and Writing tests.
The IELTS nine (9) band score system grades scores consistently. It is secure, benchmarked and understood worldwide. Test materials are designed carefully so that every version of the test is of a comparable level of difficulty.
Find out 'How to Apply' for an IELTS test today.
Test Centre Feedback
If you like to provide feedback on any aspect of your experience with the CELUSA IELTS Testing Centre, please email the Administrator at ielts.info@unisa.edu.au or call 8302 1591
IELTS Test Preparation
Join IELTS Success, an intensive one-day workshop run by CELUSA - designed to give you the tools and ability to increase your band score
Click here for more information on the 2018 IELTS Success Intensive Preparation Workshop
Purchase IELTS on Track General and Academic - $60 each, Official IELTS Practice Materials 1 and 2 - $35 each from CELUSA Student Services
Take private lessons with an experienced, professional IELTS preparation tutor to focus and get feedback and guidance on the particular skills you need to improve. Email us at ielts.info@unisa.edu.au for more information
IELTS Essentials
There are official Cambridge and IELTS Australia websites which provide a wealth of information to candidates.
IELTS Information
Looking for information on band scores, test format or Examiner tips?