Things to do






South Australia is host to more than 400 food, arts and cultural events each year
Adelaide is the festival city which comes alive every year in summer with an explosion of colour, lights, music and culture. Many festivals are held at the same time, turning the city into one big celebration with shows to see, late night clubs to visit and garden bars to sit in and enjoy while you watch the crowds go by.
The world-famous Adelaide Festival is Australia's largest multi-arts festival and is held every year around March. It attracts hundreds of thousands of people from across the country and around the world. Other big festivals include the Adelaide Fringe Festival, OzAsia Festival, Adelaide Film Festival, WOMADelaide, Tasting Australia and the Adelaide Cabaret Festival. The University supports Adelaide's festival scene through sponsorships and links to many of these events, and discounted tickets are often available to our students.
Adelaide is also home to a vibrant sporting culture and events such as the adrenalin-charged Adelaide 500 motor race and World Solar Challenge. The multi-million dollar refurbishment of Adelaide Oval has also brought a new edge to the city's sporting scene with 'Aussie Rules' football games, international cricket matches, soccer and more.
The Santos Tour Down Under, the first ProTour cycling race to be held outside of Europe, brings the world's cycling elite to Adelaide. The University sponsors the Australian national team and is a huge participant in the eight-day event.
Adelaide's urban and cultural landscape has changed over recent years. Our laneways are enjoying a makeover and a new 'pop-up culture' is giving birth to creative and hip bars, clubs and restaurants. Adelaide is also regarded as the food and wine capital of Australia with more restaurants per head than any other Australian city.
southaustralia.com/things-to-do
---
Huijin - China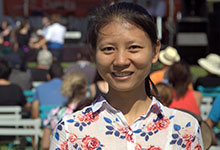 "It is a festive city with all sorts of joyful activities all year long – sports games, concerts, parades, celebrations, festivals and open-air movie nights. It is a lovely place, not far from the beach, close to the mountains and connected to farms and valleys. Life here is peaceful and colourful."
---