Lalita Vijayar Lopez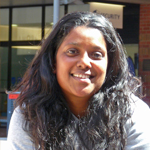 Malaysia
Lalita Vijayar Lopez, Bachelor of Applied Science (Human Movement and Health Studies) (IBHT)
What are the benefits of UniSA and their teaching staff?
"I loved the human movement program, I loved being able to go out and complete my practicals and share my experiences with people. I come from an outdoor education background and I was so happy to meet like-minded people that have helped me in so many ways. I chose to get into the Health and PE stream and have not regretted my decision. The health and PE stream is so full of energy and my classes are so engaging and fun. I look forward to practicals and workshops, tutorials and working with an amazing group of people. I have learnt so much at the University of South Australia (UniSA)."
What are your impressions of Adelaide?
"I loved Adelaide from the start as it was quiet and slow moving, which is conducive to studying. My campus at City East has easy access to the city centre and you feel comfortable studying in this university environment." Areas of study and research
Enquire Online