UniSA clothing journey
Designed for students
Before designing this new clothing range, we went to the streets and asked students what they thought.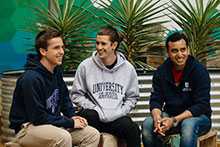 What type of merchandise would you like?
"A quality hoodie is a must – I want it to last."
"I think a hoodie and t-shirt would be your bread and butter."
"Varsity style hoodies and t-shirts wold be great."
"Something with a subtle reference to UniSA would work well."
"Navy and grey will be the most popular colours."
"We need to have blue – it is the University colour."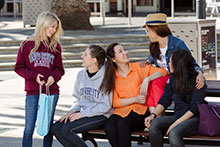 Where would you wear your hoodie?
"If it is comfortable, everywhere."
"On campus and at events with other Universities."
"Walking my dog on the beach."
"Definitely around the house if it is comfortable and warm."
"Shopping, in the city, anywhere if I like it and it's comfortable."
Meet the UniSA Citizen tee designer
Winaya Kamaputri
Master of Visual Art and Design (Graphic Design)
Indonesia
"For me, designing is a chance to communicate my creativity and explore new ideas. I always look for innovative inspirations.
My t-shirt has two special features that make it stand out from the crowd: the pocket design and pattern inside the sleeve.
The pocket design is one currently trending in the young professional market so I thought it would appeal to UniSA students. I came up with "UniSA Citizen" to illustrate my pride in being a UniSA student.
The design was also inspired by my diverse cultural heritage and love for contemporary and artistically sleek designs.
I hope you like the design. Get one, be different, and be confident as a UniSA Citizen!"
Hoodie fun facts
Q: When was the hoodie invented?
A: The hoodie can be traced back to Medieval Europe when clothing for monks included a decorative hood called a cowl. However the modern day hoodie was first produced in the US in the 1930s. Champion was the first company to market and produce a hoodie. However the term hoodie didn't become popular until the 1990s
Q. Why are hoodies so great?
A. They keep you warm because as most people know, you lose most of your body heat through your head.
Q. What type of hoodie should I get?
A: Zip up hoodies are good because they won't mess up your hair, however for comfort a pull on hoodie is the best option.
Feedback
Tell us your opinion of the new UniSA clothing range by emailing anne.delvizis@unisa.edu.au