EBP training for health professionals in the Philippines
---
The EBP training program components
The tailored EBP training for Filipino health professionals has been developed from preliminary research findings and underpinned by the best evidence. It consists of the following components:
Core/Fixed component
1. Principles and components of EBP
2. Steps to EBP (Sicily Statement in EBP 2005 by Dawes et al)
Variable component:
1. Context of teaching
(one day training with short lectures and more time for practical sessions)
2. Provision of resources in a computer laboratory
(access to freely available evidence based resources)
3. Provision of an online support for busy clinicians
(< style="background-color: #ffffff;">EBP in the Philippines web page)
4. Use of the EBP Checklist to make recommendations for evidenced based
treatment/management, to any referring health professional
5. Provision of food and certificates to the participants
---
The EBP training pilot testing
The EBP training program was pilot tested to a group of health professionals (physical therapists working in hospitals) in the Philippines. The training program resulted to large effect in terms of knowledge and skills. Overall, the training program was found relevant and effective in improving participants' knowledge and skills (Dizon, Grimmer-Somers and Kumar 2012) (http://ijahsp.nova.edu/articles/Vol10Num2/pdf/Dizon.pdf).
The EBP training program has been pilot tested to a group of physiotherapists on September 5 and 19, 2010 at the College of Rehabilitation Sciences' computer barn, University of Santo Tomas, Manila, Philippines. The program was found to be feasible, acceptable and effective in improving knowledge, skills and attitudes to EBP. A framework to ensure sustainability of learned knowledge and skills has been designed and is currently being utilised by the pilot group.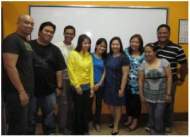 EBP Training in the Philippines: pilot test with physiotherapists from the Department of Physical Medicine and Rehabilitation,
Our Lady of Lourdes Hospital (Mandaluyong City, Philippines)
Janine Dizon, author of the EBP training program in the Philippines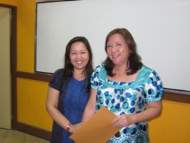 Janine Dizon (left), with the head of the Departmentof Physical Medicine and Rehabilitation,
Dr. Consuelo Suarez (right).
---
The larger EBP training tested in a randomized controlled trial
The EBP training was further tested in a randomized controlled trial. A study protocol was registered and published by Dizon, Grimmer-Somers and Kumar 2011) and can be accessed at http://www.biomedcentral.com/content/pdf/1472-6920-11-14.pdf. The EBP training program was tested against a waitlist control group and was found to have significant gains in EBP domains of knowledge, skills, attitudes and behavior at immediate post training and three months post training. The EBP training program was a tested model of providing EBP training for health professionals especially those that are not first contact practitioners.
---
Feedback and perceptions of participants from the training
The EBP training was found to be a useful and relevant continuing education program. Whilst EBP is relatively new in the Philippines, the participants found it valuable, essential and applicable in the local context setting. Participants found the strategies and components effective in improving their capacity in EBP. Participants valued the sense of contribution to practice when they were able to recommend evidence based treatment for their patients. To fully integrate EBP in the Philippines, it was proposed that all health professionals be trained in EBP and EBP needs to be integrated in the undergraduate programs.
On the program objectives

The purpose of the training was clearly stated at the start.

On strategies used, duration of training and schedule of activities

The lectures were not too long nor too short; just adequate to get the message across.

The exercises were appropriate for the participants to practice the knowledge they had acquired from the lecture.

It's very beneficial for physical therapists, as we can apply it in the clinics.

The actual searching was useful and appropriate.

The alternate lecture-exercise-lecture was effective.
The allotted time was enough even to answer the questions.

On strategies used, duration of training and schedule of activities

The internet service was good. The lights and other technical stuff were conducive for learning.

On strategies used, duration of training and schedule of activities

I learned a lot from this EBP training. This might be the soultion that can bridge the gap between theory and practice. Thank you

Well organise lecture that is why we were able to follow easily though it is hard and focus all the time.

Thank you for imparting us your knowledge about EBP. I mearned a lot today, God bless.

Thank you and more practice in critical appraisal.

Very good lecture. I learned a lot, thanks.

The lecture was just enough and more time was allotted for practical application for better learning. Thanks for a very good learning experience.It would be helpful if it could be taught at the college curriculum.
---
Walking the Talk
Evidence based practice and Systematic Review training programs
Toincrease capacity in doing research, synthesizing research evidence through systematic reviews and application of research into practice, EBP and systematic review trainings have been undertaken in the following institutions:
University of Santo Tomas Hospital

Apolinario Mabini Rehabilitation Center
Department of Anesthesia
Section of cardiology
Department of Ear, Nose and Throat

Ospital ng Maynila – Department of Internal Medicine
University of Santo Tomas Graduate School (Evidence Based Health Research and Health Research Methods classes)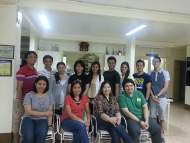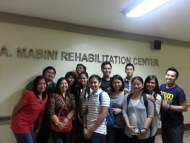 ---
Research Tea Time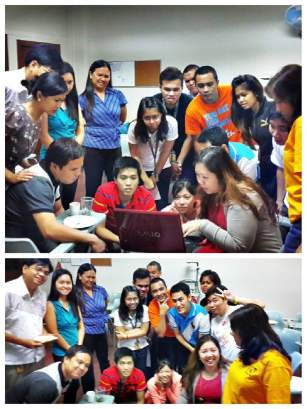 To build a culture of research amongst a group of health professionals in an organization, an informal discussion about research methods is being held at the College of Rehabilitation Sciences, at least once a month, called the Research Tea Time (RTT). This activity is a light conversation about research methods and is a combination of research methods, tea and nice teaware. RTT has been designed in this manner to enhance the interest of the health professionals in research without the burden of complex research. The first RTT activity was on a discussion on validation of questionnaires.