The power of exercise in preventing stroke
September 04 2014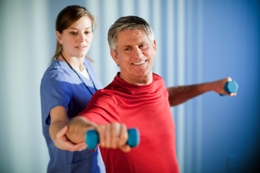 On the eve of National Stroke Week, UniSA has found that a majority of people who suffer a stroke are unaware of the importance of exercise as a preventative measure to stop stroke from occurring.
The research, published in the journal PeerJ, resulted from interviews with 81 people who had been admitted to the Royal Adelaide Hospital and Flinders Medical Centre, following stroke.
They were asked about their physical activity habits and preferences in the month leading up to their stroke and it was noted that people were not very active before their stroke, saying this was due to lack of motivation, lack of interest and lack of energy.
It was also discovered that just one third of participants were aware that low levels of physical activity actually increased their risk of stroke, researcher Dr Michelle McDonnell reveals.
"This is a real concern for us, that people who are at risk of stroke are not aware that there is something they can do to reduce their stroke risk," Dr McDonnell says.
"The challenge for future health care policy is to increase awareness of physical activity as a modifiable risk factor for stroke, and engage older adults in suitable ways to increase their physical activity, particularly moderately intense activity, in accordance with national physical activity guidelines."
One of Dr McDonnell's clients, Ray Supple, from St Agnes, had a stroke 14 years ago and explains the difference exercise has made to his life.
"I had my stroke when I was 52 and I was still working long hours, with early starts and late finishes. The last thing I wanted to do at the end of the day to go out and exercise – I was too tired.
"But now I can see how important exercise is - I go to Strength for Life classes twice a week, every week. It's so important to make that a priority because exercise is essential to healthy living and recovery," says Supple.
Based at UniSA's Division of Health Sciences, Dr McDonnell is also exploring exercise's ability to promote neuroplasticity in people who have had a stroke. She is currently recruiting study participants who have suffered a stroke at least six months ago.
"If exercise not only prevents stroke but encourages neuroplasticity for rehabilitation patients after stroke, this could mean physiotherapy sessions might be more effective if they involve gentle cycling prior to rehab, which would be a huge change in rehabilitation practice," Dr McDonnell says.
Dr McDonnell is looking for adults aged 18-80 living in the Adelaide area, who suffered a stroke at least six months ago to participate in the new study. For more information or to get involved, contact Dr McDonnell on 8302 1684.
Contact for interview:
Michelle McDonnell office (08) 830 21684 mobile 0402 882 774 email michelle.mcdonnell@unisa.edu.au
Media Contact
Will Venn office (08) 8302 0096 mobile 0406 178 090 email will.venn@unisa.edu.au