The Go-Betweens' Robert Forster on song, on stage, in Adelaide
July 10 2015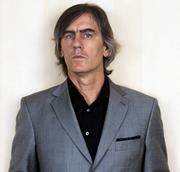 The Go-Betweens are the archetypal Australian indie band, whose bona fide anthems including Streets Of Your Town and Cattle and Cane are the songs that musical reputations are built from, along with classic hits including Spring Rain and Head Full of Steam.
Their influence endures thanks to a legacy of nine studio albums, from debut Send Me a Lullaby to 2005's Ocean's Apart, with a critical reputation inspiring enough that a bridge was named in their honour in their home state of Queensland (in 2009).
Next month the lead singer of The Go-Betweens, Robert Forster, will be taking to the stage when he appears in conversation with Hawke Research Institute Director, Professor Anthony Elliott, at the Adelaide Festival Theatre.
Forster's appearance, ahead of the release of his eagerly awaited sixth full-length studio album in September, will see him reflect on his career, from the music and magic of The Go-Betweens, his solo work and his writings as a music critic for the Monthly.
Professor Anthony Elliott says the event is part of the Hawke Celebrity Studies Series, whose previous interviewees include actor John Astin (Gomez in the Addams Family), and musician Lloyd Cole.
"This will be a rare opportunity to witness one of Australia's finest songwriters in conversation, talking about his extraordinary life and profession," Professor Elliott says.
"Robert will also be performing an acoustic set of several songs that showcase his talent, following a musical career that dates back to the 1970s."
Those attending will be for a treat; such is the eclectic nature of Forster's music that American novelist Jonathan Lathem has described the first six Go-Betweens' records as sounding "like they're a different band each time out".
Danger in the Past: An Evening with Robert Forster of The Go-Betweens will take place on August 20, from 7pm-8.30pm at the Banquet Room, Adelaide Festival Theatre. Click here to register to attend
An encore performance of Danger in the Past: An Evening with Robert Forster of The Go-Betweens will be held at the Museum of Old and New Art (MONA), Tasmania on Friday 21 August 2015. For more information, visit mona.net.au/what's-on/events
For interviews: Professor Anthony Elliott office (08 8302 1084)
Media contact: Will Venn office (08) 8302 0096 email will.venn@unisa.edu.au