New doco puts cultural understanding on the agenda for schools
March 27 2014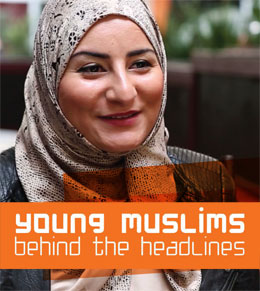 A new documentary film looking at the experiences of four young Australian Muslims is being released as a learning tool for secondary schools in South Australia.
Supported by the Australian Government Attorney-General's Department under its Building Community Resilience Grants Program, and produced by the University of South Australia's International Centre for Muslim and non-Muslim Understanding, Young Muslims: Behind the Headlines uses the real life experiences of young Muslim Australians to tackle such questions as why do Muslim women wear the hijab, why do international politics impact on some Muslims, and how does Islamic culture contribute to Australian communities?
Through the experiences of Asma, Yassir, Khaled and Mohamad the film explores identity, prejudice, stereotyping, what it takes to become part of an in-group and how exclusion feels.
Director of the International Centre for Muslim and non-Muslim Understanding at UniSA Professor AbdouMaliq Simone says the goal for the project was to provide a real life learning context for students.
"As the national debate about changes to the Racial Discrimination Act is starting to heat up, it is all the more important that young people have opportunities to consider the impact of discrimination, prejudice and stereotyping," Prof Simone says.
"We have developed this short documentary so that teachers can use it as a starting point for discussion and learning about the role of culture in defining identity, the place of faith in some people's lives, ideas about difference and acceptance, the impacts of social exclusion, and notions of stereotyping, prejudice and racism," Prof Simone says.
The film has been launched with a full package of learning aids including additional resources, data and links to further research for teachers.
"The film offers much more than material for social studies classes," Prof Simone says.
"The issues it raises - stereotyping and prejudice, social inclusion and exclusion – are important in discussions of what it is to be Australian, the future of multicultural policies, ideas of the secular state and of democratic and civil societies and much, much more.
"We believe the film is an important starting point for many challenging and rewarding discussions and at the same time it provides a personal insight into the lives of Australian Muslims today."
For more information about the International Centre for Muslim and non-Muslim Understanding and this educational resource, visit www.unisa.edu.au/muslim-understanding
Media contact: Michèle Nardelli office: 08 8302 0966 mobile: 0418 823 673 email: Michele.nardelli@unisa.edu.au.