International partnership to boost aviation opportunities for students
March 03 2015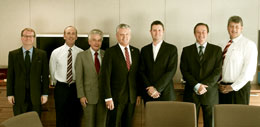 The University of South Australia and Embry-Riddle Aeronautical University (ERAU) Asia have signed a memorandum of understanding set to expand undergraduate and graduate aviation degree opportunities.
The collaboration will create new opportunities for UniSA students to develop key skills in emerging growth areas of aviation, including maintenance engineering and unmanned aerial vehicle (UAV) technology, while providing ERAU with a strong foothold into the Australasia region – an area of anticipated growth for aviation in the next 20 years.
Signing the MoU with Dr John R. Watret, Senior Vice President and Chief Operating Officer of ERAU, and Professor Graham Hunt, Head: Asia, ERAU, UniSA Vice Chancellor, Professor David Lloyd said he welcomed the new partnership.
"As the largest aeronautical university in the world, ERAU's aviation expertise is considerable," Prof Lloyd says.
"This MoU will build opportunities for our students to benefit from that expertise and to develop key skills across wide areas of the aviation industry at a critical time of industry growth in the Asia-Pacific region.
"It is a partnership that will deliver value to both of our organisations, and one which underlines UniSA's commitment to providing our students with the skills and qualifications they need to meet current and future industry requirements."
Dr John R. Watret, who visited UniSA to sign the MOU, believes the partnership signals an exciting future.
"Embry-Riddle Aeronautical University, Asia partnering with UniSA represents the future of aviation and aerospace globally," Dr Watret says.
"The tremendous growth opportunities and passion for aviation here in Australia and Asia coupled with the direction and commitment of UniSA makes this an exciting venture for our entire university."
UniSA Head of Aviation, Neil Hyland says the MoU will enable the development of further aviation teaching and research opportunities between both institutions, benefitting students in Australia and Asia, while supporting the academic and professional development of UniSA's faculty and staff.
"Our current aviation program provides students with the skills to become pilots and through the signing of the MoU there is a springboard now in place for our students to learn more in the field of aviation," Hyland says.
"It opens the door for our students to learn about other areas of the industry, including air traffic control, cyber security, UAV technology and maintenance engineering.
"We're also in an area of the world that is just poised for huge growth in the aviation industry.
"The MoU will grant ERAU a strong presence in Australasia, while giving our students the opportunity to learn in both Australia and Asia."
With Boeing predicting that more than 180,000 pilots will be needed in the Asia-Pacific region by 2030, the signing of the MoU is timely.
About Embry-Riddle Aeronautical University:
Embry-Riddle Aeronautical University, the world's largest, fully accredited university specialising in aviation and aerospace, is a nonprofit, independent institution offering more than 70 baccalaureate, master's and PhD degree programs in its colleges of Arts & Sciences, Aviation, Business, Engineering and Security & Intelligence.
The university is a major research center, seeking solutions to real-world problems in partnership with the aerospace industry, other universities and government agencies.
Contact for interview:
Neil Hyland (08) 8302 2655 email Neil.Hyland@unisa.edu.au
Media Contact
Will Venn office (08) 8302 0096 mobile 0401 366 054 email will.venn@unisa.edu.au